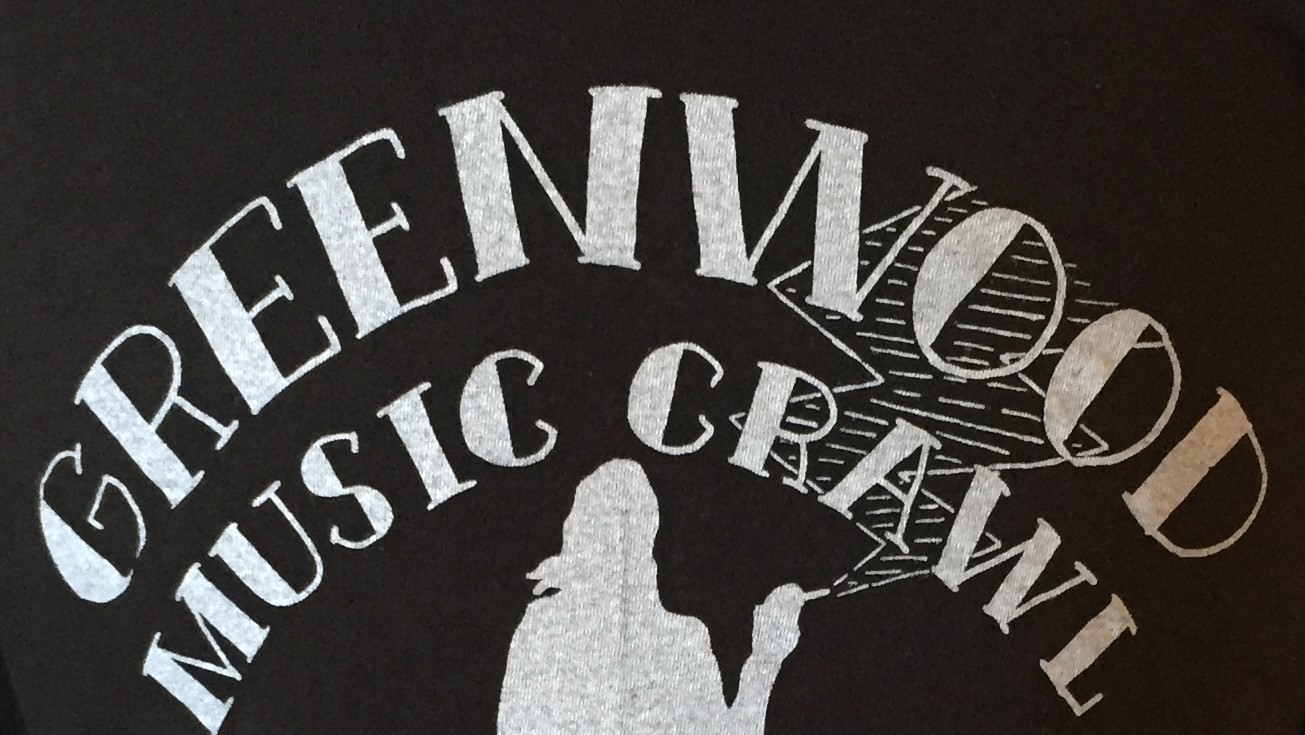 Greenwood Music Crawl "nO sLEEP 'tIL gREENWOOD" 2018 / 2nd Annual / grit girls productions llc
Get into the neighborhood vibe with Greenwood's 2nd Annual Music Crawl! Five different venue spaces hosting over 35 LOCAL rock, shoegaze, psychedelic, punk, pop, and metal bands playing for twelve straight hours!
These AMAZING local bands are playing at this year's event Starting at 12:00 PM - 2:00 AM:
Madcap Pusher - Sunset Flip - Shark Legs - Black Nite Crash - Bad Optics - Seminars - Mercy Parker - Sam Cobra - Hellbat - Filthy Traitors - Bearaxe - Peyote Ugly - Zero Down - The Riffbrokers - Werthless - Psilocyborg - Brad Yaeger - Big Wheel Stunt Show - Danny Newcomb & The Sugarmakers - Blackpool Astronomy - Cloud Person - Sugarbush - Dogstrum - Of The Heavy Sun - Rebecca (Velvet Q) - B r a c k e t s - Knuckles - The 5th Year - Me Infecto - Glorybots - Surrealized - Barbarian Wasteland - Sonic Medicine - King Mammoth - The Rainiers
GREENWOOD MUSIC CRAWL 2018 FULL TIME/VENUE LINE-UP SCHEDULE. BELOW
Visit our website to hear the sounds of these amazing local bands: http://www.gritgirlsllc.com
If you love what we're doing, come join us on: Facebook Pamela Donna Green and Greenwood Music Crawl for any and all future updates.
$23 Advance Wristband / $28 Door Wristbands / 21+ Event
Day of Show Door Tickets & WILL CALL Available on the Naked City Patio
Hosting Venues:
Houndstooth Public, North Star Diner & Shanghai Room, Naked City Brewery & Screening Room, Coindexter's, The Angry Beaver
GRIT GIRLS PRODUCTIONS GREENWOOD MUSIC CRAWL event is sponsored by:
VERITY CREDIT UNION / FLYING BIKE COOPERATIVE BREWERY / COZY NUT TAVERN / AMERICAN MUSIC
107.7 THE END ~ LOCALS ONLY / 99.9 KISW ~ LOUD AND LOCAL / DIAMOND KNOT BREWERY
Naked City ~ The Screening Room
12:00 PM Sam Cobra
1:15 PM The Riffbrokers
2:30 PM Sugarbush
3:45 PM Danny Newcomb & The Sugarmakers
The Angry Beaver
12:00 PM Psilocyborg
1:15 PM Barbarian Wasteland
2:30 PM Me Infecto
3:45 PM The Rainiers
5:00 PM Big Wheel Stunt Show
6:15 PM Zero Down
8:00 PM Dogstrum
9:15 PM Mercy Parker
10:30 PM The 5th Year
11:45 PM Cloud Person
North Star Diner & Shanghai Room
1:00 PM Knuckles
2:15 PM Bearaxe
3:30 PM Sonic Medicine
5:15 PM Madcap Pusher
6:30 PM GloryBots
7:45 PM Blackpool Astronomy
9:00 PM Peyote Ugly
10:15 PM King Mammoth
11:30 PM Brackets
1:00 AM Black Nite Crash
Houndstooth Public House
12:30 PM Filthy Traitors
1:45 PM Of The Heavy Sun
3:00 PM Hellbat
4:15 PM Werthless
5:30 PM Rebecca Solo (Velvet Q)
6:30 PM Bad Optics
7:45 PM Seminars
9:00 PM Sunset Flip
10:00 PM Sup All Night - Special Appearance For Their 1 Song Debut
10:30 PM Brad Yaeger Acoustic
Coindexter's
11:00 PM Shark Legs
12:15 AM Surrealized