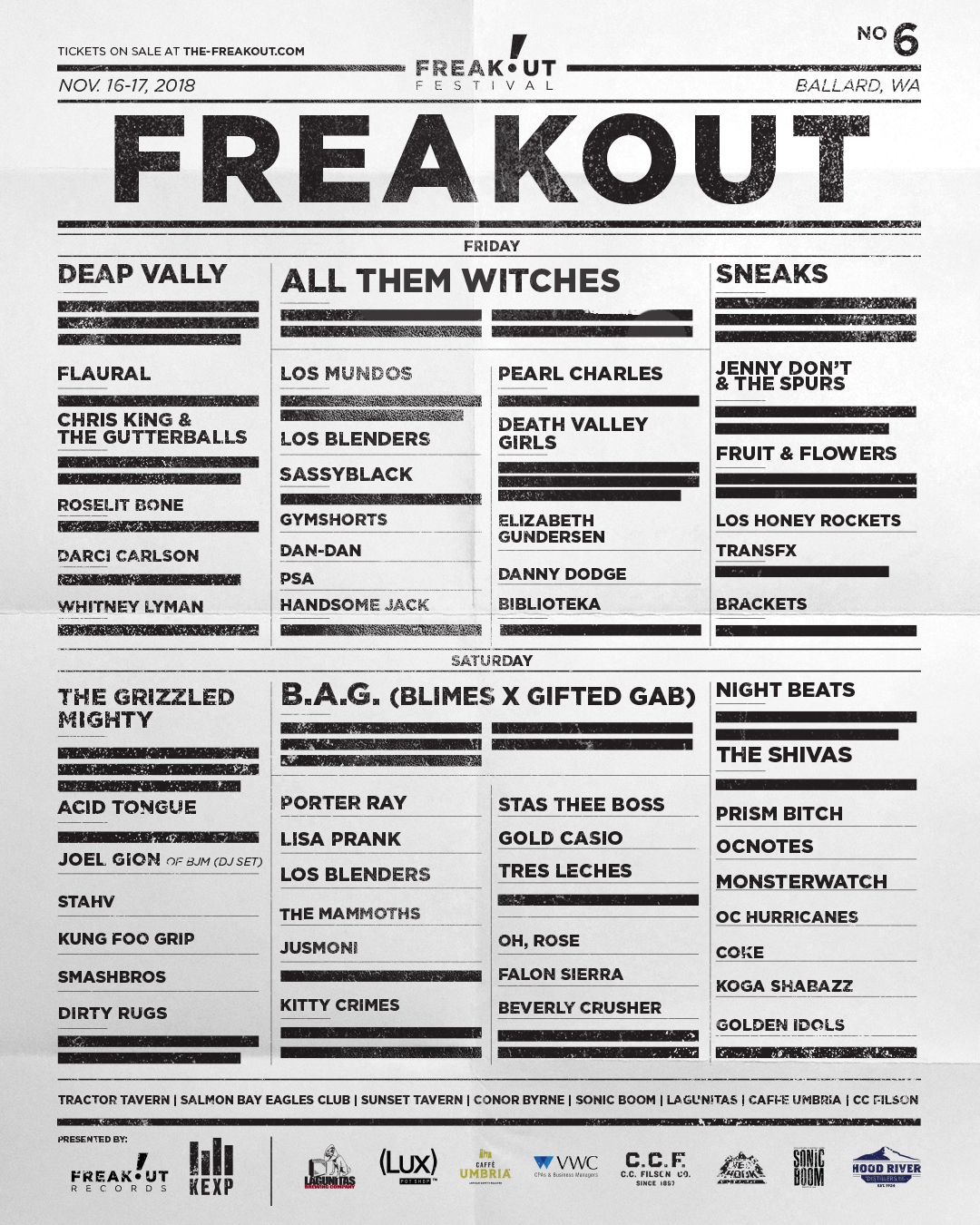 Freakout Festival


6th Annual
Fri, Nov 16, 2018 at 6pm - Sun, Nov 18, 2018 at 2am (Pacific)
DAILY VENUE LINEUP HERE!
|| FRIDAY NOVEMBER 16th ||

Salmon Bay Eagles Club (Main Stage):
All Them Witches
Flaural
Handsome Jack

Tractor Tavern (Sea Witch Stage):
Deap Vally
Death Valley Girls
Sneaks
Fruit & Flowers
DJ Joel Gion (The Brian Jonestown Massacre)

Sunset Tavern (KEXP El Sonido Stage):
Los Blenders
Los Mundos
Los Honey Rockets

Conor Byrne:
Pearl Charles
Jenny Don't And The Spurs
GYMSHORTS
Roselit Bone
Danny Dodge
Hosted by Brent Amaker

Sonic Boom Records (XRAY.FM Stage):
Trans FX
Dan Dan

Lagunitas (Vera Project Stage):
Sassyblack
PSA

Caffe Umbria:
Biblioteka
Whitney Lyman
Brackets

CC Filson:
Chris King & The Gutterballs
Elizabeth Gundersen
Darci Carlson

|| SATURDAY NOVEMBER 17th ||

Salmon Bay Eagles Club (Main Stage):
Night Beats
Acid Tongue
The Mammoths
Beverly Crusher

Tractor Tavern (KEXP Street Sounds Stage):
B.A.G. (Blimes x Gab)
Stas THEE Boss
Porter Ray
JusMoni
OCnotes (Live Set, DJ & Visuals)

Sunset Tavern:
Prism B tch
KITTY CRIMES
The Shivas
The Grizzled Mighty

Conor Byrne:
MONSTERWATCH
Coke (Oakland)
Gold Casio
Dirty Rugs
STAHV

Sonic Boom Records (XRAY.FM Stage):
Lisa Prank
Oh, Rose

Lagunitas (Artist Home Stage):
Smash Bros
Koga Shabazz
Kung Foo Grip
Falon Sierra

Caffe Umbria (KEXP El Sonido 2nd Chance Stage):
Tres Leches
OC Hurricanes
Los Blenders

CC Filson:
Smokey Brights (Acoustic)
Joel Gion (Solo)
Golden IdolsThe Freakout is a November festival founded by Seattle record label Freakout Records. Started as the Psychedelic Holiday Freakout Festival in 2013, this annual event has been held in different neighborhoods throughout Seattle each year, bringing together curators from all around the city's diverse music and arts community.
In 2018, The Freakout returns to Ballard and we've announced 50 artists in 8 venues with local and international artists! Happening November 16-17th. Lineup includes...
All Them Witches, B.A.G (Blimes x Gab), Night Beats, Joel Gion (BJM) Deap Vally, Death Valley Girls, Flaural, Sneaks, Los Mundos, Lisa Prank, Porter Ray, The Grizzled Mighty, Acid Tongue, Stas THEE Boss, The Shivas, Pearl Charles, The Mammoths and many many more.
Look out for curated stages from Seattle's Vera Project, Artist Home, Portlan'ds X-Ray FM, San Francisco's Sea Witch Productions and KEXP's El Sonido and Street Sounds!