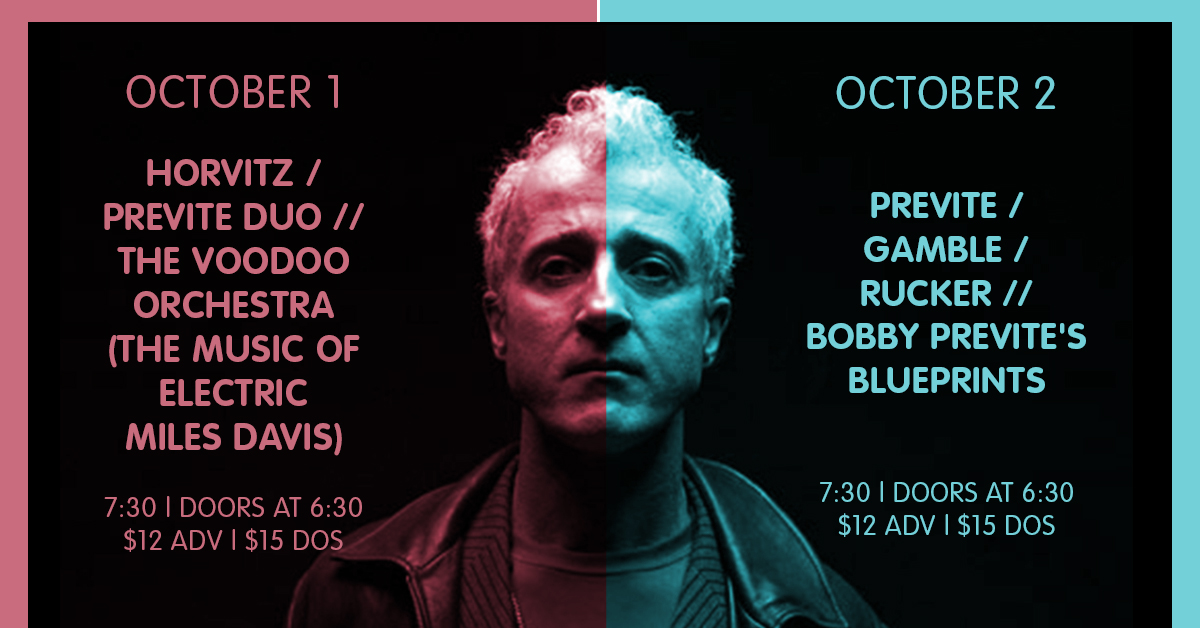 Previte/Gamble/Rucker // Bobby Previte's Blueprints
Tue, Oct 2, 2018 at 7:30pm
Doors at 6:30pm
$12 adv/ $15 dos
To guarantee a good seat, please make your dinner reservation by emailing reservations@theroyalroomseattle.com
Advance tickets can only be purchased online. We do not sell advance tickets at the venue.
GAMBLE/PREVITE/RUCKER -
Bobby Previte's new blowout trio of guitar, synthesizer, alto sax and drums with two of his favorite genre-benders, Mike Gamble on guitar and Fabian Rucker on sax and electronics.
Website
BLUEPRINTS -
Bobby Previte went back over every piece of music he composed from 1979 to the present - music for acoustic jazz bands, electric music, new classical, electronic, music for films - and took one short fragment from each, pasting them all up together into a huge master score. He then spontaneously selects various fragments for the ensemble to play and then using a variety of signals conducts them through these fragments, the effect something like a "symphony of small parts." But here's the catch: the entire score is projected on a screen behind Previte so that not only must the musicians read all the music from the screen, but the audience can see it as well. Previte has been performing BLUEPRINTS with a rotating band in upstate New York for months, and audiences love trying to follow along with what the musicians are playing on the score, as well as sometimes staring in perplexity when there is but a single measure of music on screen that somehow, through the magic of the performers, is transformed into five minutes of stunning improvisation. You have literally never seen anything like it.
Featuring:
Greg Sinibaldi
Fabian Rucker
Al Keith
Ray Larson
Samantha Boshnack
Haley Freedlund
Christian Pincock
Ryan Burns
Geoff Harper
Eric Eagle
Mike Gamble
Please note: Tickets do not guarantee seating during shows at the Royal Room. For sold out shows standing room may be the only available space. Please come early to ensure you get a table. Reservations can be made for those who are coming for dinner as well as the show. The Royal Room is All Ages until 10pm.