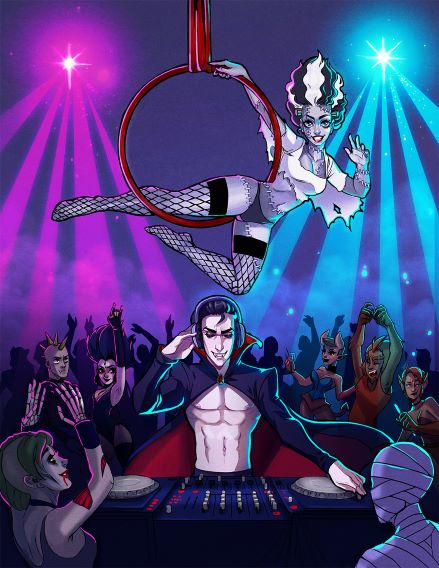 Fremonster Spectacular, 2018
EARLY BIRD TICKETS NOW AVAILABLE!!!
Indulge in a night of non-stop spectacle at the third annual Fremonster Spectacular, Saturday, October 27, 2018 at the amazing Fremont Foundry Events!
Video from 2017: http://bit.ly/fremonster2017video
Video from 2016: http://bit.ly/fremonster2016video
Photos from 2017: http://bit.ly/fremonster2017photos
=== TICKETS ===
Sales start on Saturday 9/1/18. Each year the event has *sold out* so get your tickets in advance. Plus ticket prices increase at the door: buy online and save!
General Admission starts at $45 (early-bird rate).
VIP Experience starts at $99 including 5 drink tokens, express entry, VIP-only Mezzanine lounge overlooking the main dance floor with private bar, restrooms and special treats.
21+ only, ID required for entry.
Re-entry available for VIP ticketholders only.
Website: http://fremonster.com
_______________________________
=== DANCE PARTY ===
Hit the dance floor with headlining DJ Jeromy Nail and DJ Kipprawk playing danceable mash-ups and fan favorites. Enjoy sultry gogo dancers from Valtesse Productions, night-club style lighting and special effects from Crimson Haze Event Lighting, live projection visuals from Psychedelic Television, and more.
=== PERFORMANCES ===
Be wow'd by captivating aerial and gogo performances by Valtesse Productions, LED circus acts by world-traveling performer JPeace Lovecircus and company, and ultraviolet body painting on gorgeous models in our blacklight room.
=== COSTUME CONTEST ===
Deck yourself out in your best costume for a chance to win a $500 cash prize.
=== FULL BAR ===
Enjoy delicious craft brews and spooky specialty cocktails. Fremonster features multiple bars with a variety of selections.
Indulge in a VIP experience for a private bar and 5 drink tokens in the swanky VIP Mezzanine Lounge, plus many other perks!
=== VENUE ===
Join us at Fremont Foundry! This unique Seattle venue in the heart of Fremont is the perfect location to celebrate Halloween, with vaulted ceilings for stunning overhead performances, both indoor and outdoor spaces to explore, and a swanky Mezzanine VIP lounge overlooking the main dance party.

_______________________________
Proceeds from Fremonster go to support The World is Fun.

_______________________________
Fremonster Spectacular art by Caitlyn Patten http://caitlynpatten.com