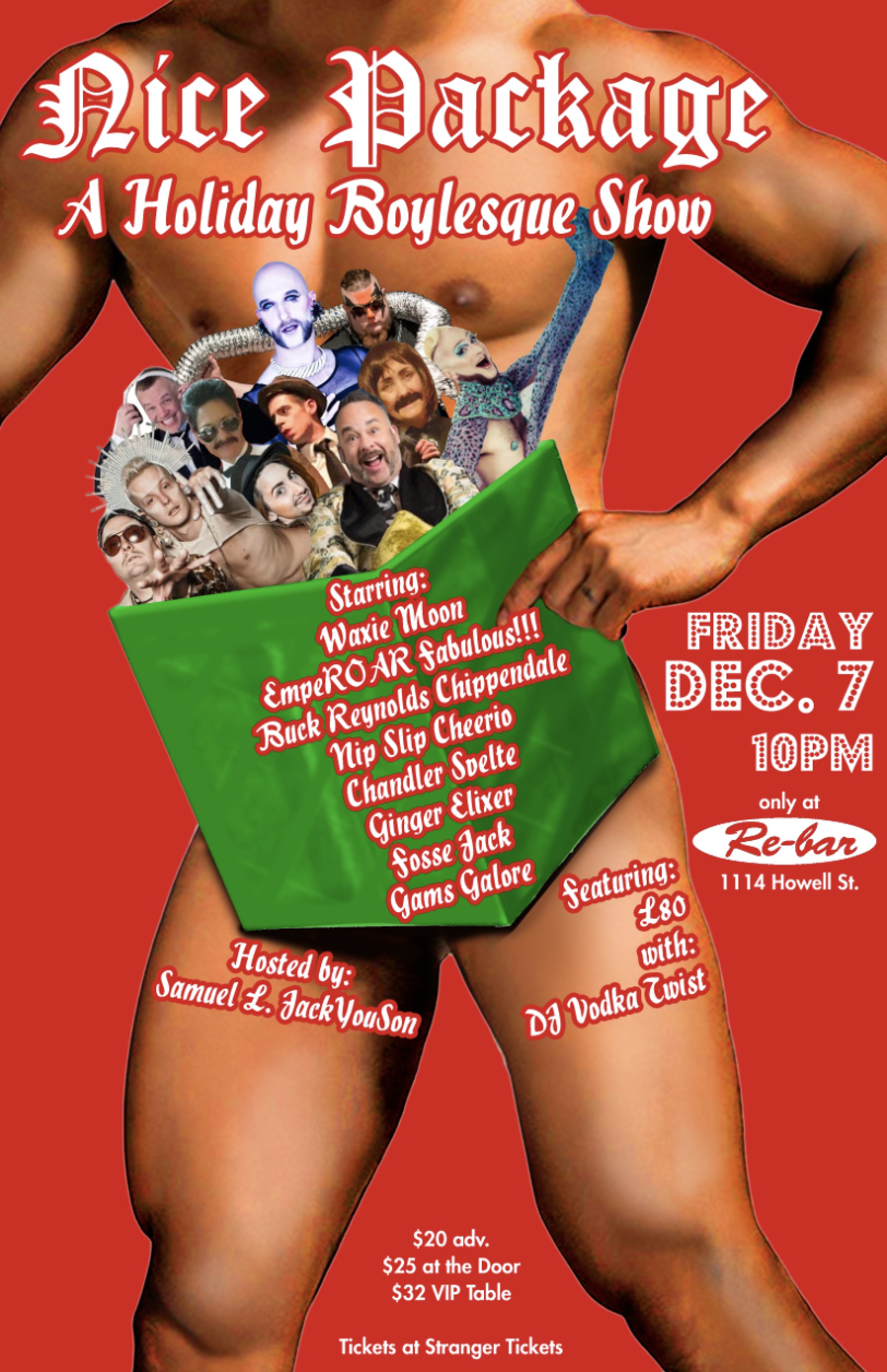 Nice Package - A Holiday Boylesque Show - A lil Song, alotta Dance.
Ends Sat, Dec 8, 2018 at 2am
21 + with valid id
ADA accessible
Nice Package - A Evening of Holiday & Song inspired "Boy-Lesque"
It's the Holidays, who doesn't need a Nice Package? It's like Secret Santa, you never know what you're gonna get. Wanna find out? Check out our Nice Package.
Doors @ 10. Show promptly @ 1030. 21+ $20 Adv. $25 Door $32 Front Row VIP Table
Hosted by:
Samuel L. Ja ckYouSon
Starring:
World Wide Boylesque Super Star - Waxie Moon
International Sensation - EmpeROAR Fabulous!!!
The New Pick up Artist - Buck Reynolds Chippendale
Shady - Chandler Svelte
Your Favorite Spice - Ginger Elixer
Songstress of Gold - Gams Galore
Young Buck - Fosse Jack
The Brit with a Pipe - Nip Slip Cheerio.
Featuring: The Band L80
With DJ Vodka Twist spinning after the show.
Doors @ 10. Show promptly @ 1030.
21+ $20 Adv. $25 Door
$32 *Front Row VIP Table (Only 15 Available)
-*VIP includes - Front Row Seat at a Coktail table, Gift bag that includes - A Signed Poster from the cast, 1 ticket to Match Game Re bar, Secret Santa gift, Scratch Ticket, Coal candy...