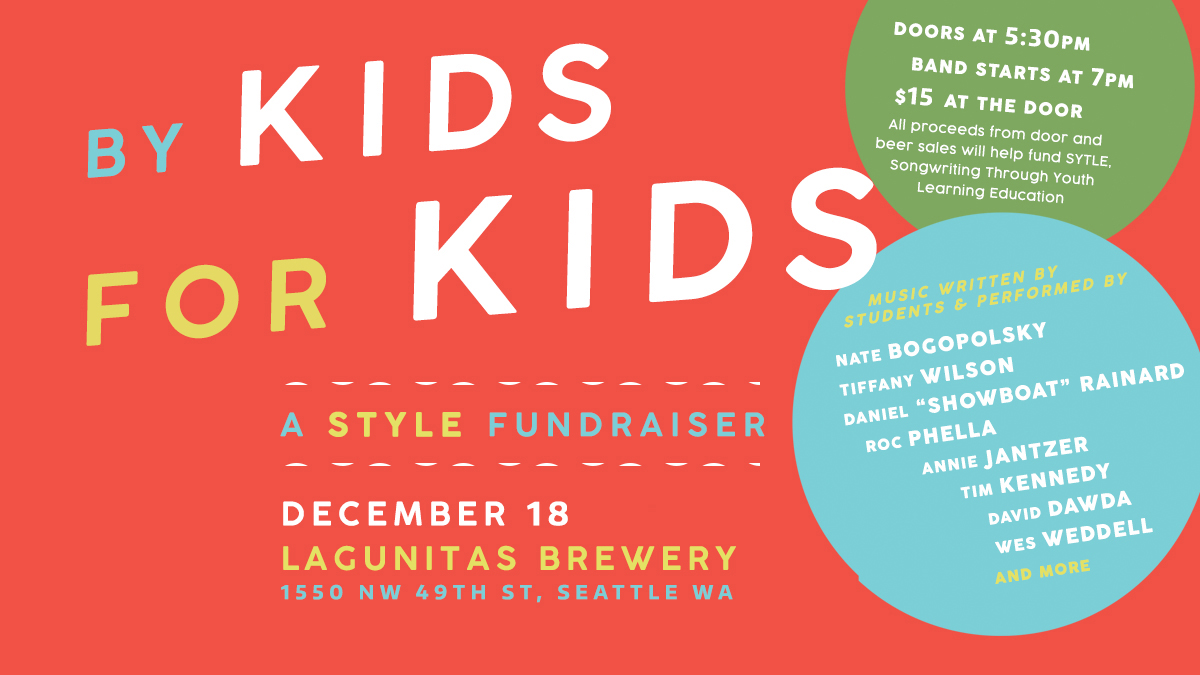 By Kids, For Kids: A STYLE fundraiser
Tue, Dec 18, 2018 at 5:30pm
Bushwick Northwest and STYLE: Songwriting Through Youth Literature Education present a fundraiser in support of our education program, STYLE: Songwriting Through Youth Literature Education. Professional musicians will perform songs written by students. Advance tickets available.
This is an All Ages event!
Bushwick Northwest is a non-profit organization that creates original music inspired by books for adults, for children and for schools and libraries. We're starting our 9th season as The Bushwick Book Club Seattle, and our 6th working inside of schools and libraries with our STYLE program. For this event, we'll have a silent auction and have professional musicians performing music written by our students from a variety of schools from the King County region.
Featured performers for this event include Nate Bogopolsky, Tiffany Wilson, Daniel "Showboat" Rainard, Roc Phella, Annie Jantzer, Tim Kennedy, David Dawda, Wes Weddell and more.
Silent Auction Items include AVEDA, Balance Bodyworks, Café Nordo and more…
Over the past 6 years, STYLE has been cutting their teeth inside classroom and libraries for children and students K-12. We've worked with Seattle Public Schools, Bellevue School District, Seattle Public Libraries, King County Library Systems and in many of the surrounding counties. We are supported by The City of Seattle, 4 Culture, Humanities Washington, Hugo House, Town Hall Seattle and many more local arts organizations.
"STYLE songwriting workshops give students an unforgettable experience with the written word. It gives them a chance to experience the craft and magic of flinging words into the air on a pair of musical wings" is how one local librarian describes the STYLE experience, while another librarian calls it "a brilliant way to expand anyone's appreciation of words." The Bushwick Book Club Seattle and STYLE: Songwriting Through Youth Literature Education are the twin arms of Bushwick Northwest, a federal 501(c)(3) non-profit arts organization.
All proceeds from door and beer sales will help fund STYLE programs inside classrooms and libraries