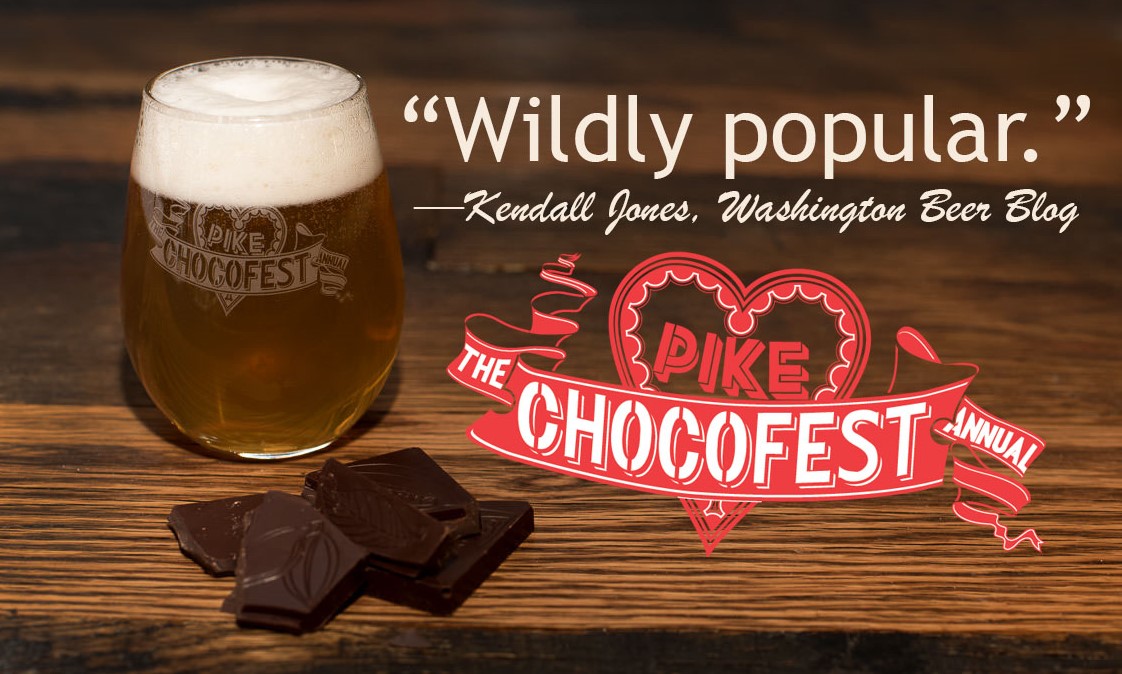 Chocofest 2019
Sun, Feb 10, 2019 from 6pm - 9pm
It's with a heavy heart that we announce Pike Chocofest 2019 will be canceled rather than postponed this year. We're thankful for the support and understanding of our nonprofit partner Washington Trails Association, our vendor partners, and our guests. Ticket refunds will be issues to all guests. Please expect to receive your refund confirmation from our ticketing platform, Stranger Tickets, by Friday, February 15, 2019.
In addition, ticket holders will each receive $10 off a February visit to The Pike Pub or Tankard &Tun. Please show your server or bartender your Chocofest ticket or refund receipt to receive this offer. Finally, in support of the Washington Trails Association, we encourage you to join and give to WTA directly, as it is an incredible nonprofit worthy of all of our ongoing support.
If you have any additional questions or concerns, please reach out to us at info@pikebrewing.com.
Happy Valentine's Day, The Pike Brew Crew
———
Fall in love with beer, chocolate and savory bites at Chocofest. This culinary adventure celebrates Valentine's Day in Seattle and is a food and drink lovers delight. Your night will be complete, with unlimited food bites from premiere local restaurants and talented chocolatiers, alongside delicious sips from local brewers, wineries and distillers.
Chocofest benefits Washington Trails Association. WTA is a community working to mobilize hikers and outdoor enthusiasts to explore, steward and champion Washington's trails and public lands. To learn more, visit wta.org.
Chocofest is a 21+ only event and admission includes all food, commemorative Chocofest glass, 10 drink tickets and live music from Septimus and Rouge!
Enjoy food, chocolate and drinks from these premier local favorites including:
Finnriver Farm and Cidery | Jellyfish Brewing Company | Dry Fly Distilling | Vehrs Inc. | Two Beers Brewing | Seattle Cider Co. | Sky River Brewing | Ghostfish Brewing Co. | Pondera Winery | Timber City Ginger | Sound Spirits Distillery | Classical Wines | Hierophant Meadery LLC | Tieton Cider Works | Seattle Hard Cider | Old Stove Brewing Company | Schilling Cider House | Premium Port Wines | Woodinville Whiskey Co. | Breakside Brewery | Flying Bike Cooperative Brewery | Copperworks Distilling Company | Farmstrong Brewing | Cadée Distillery Inc | Stoup Brewing | JM Cellars | Georgetown Brewing Company | Merchant du Vin | Sidetrack Distillery | Lucky Envelope Brewing
RN 74 | Macrina Bakery | Carnation Farms | Hot Chocolat | Copperleaf Restaurant | Chocotelegram | Salish Lodge and Spa | Honest Biscuits | Fairmont Olympic Hotel | Gelatiamo | Your Chef du Jour | jcoco chocolate | Seattle Chocolates Company | Theo Chocolate | Intrigue Chocolate Co. | Fran's Chocolates | Chukar Cherries | Ritrovo Italian Regional Foods | Bavarian Meats | Joe Chocolates | Tankard & Tun | The Pike Pub | Seatown Market Diner | Etta's