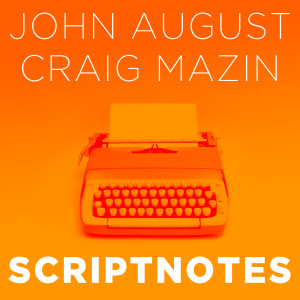 The Northwest Screenwriters Guild & TheFilmSchool proudly present
Scriptnotes Podcast LIVE – Seattle


Famous screenwriters John August ("Go", "Big Fish") and Craig Mazin ("Hangover II & III", "Identity Thief") record the world's most popular screenwriting podcast
Wed, Feb 6, 2019 at 7pm (Pacific)
-SOLD OUT!-
You listen to them while driving, running, and folding laundry — Now's your chance to see Scriptnotes LIVE!
THIS JUST IN! - John will be selling his brand new book Arlo Finch in the Lake of the Moon and signing after the show!
Join the Northwest Screenwriters Guild and TheFilmSchool as we welcome two of the most well-known writers in Hollywood–John August and Craig Mazin–to the Pacific Northwest. The co-hosts will record their popular podcast, Scriptnotes, in front of a live audience of writers, filmmakers, and movie lovers from Vancouver to Portland and all parts in between.
Cheer them on. Meet and network with other film buffs. And show Craig Mazin that Seattle can fill a room with "Sexy Craig" fanatics–as dangerous as that sounds.
Doors open: 6:30pm (come hang out and meet other filmmakers!)
Show starts: 7pm
All proceeds will go toward creating sustainable pathways for Northwest writers to find viable careers in screenwriting and film.
Check here for information on parking at Pacific Place: https://www.pacificplaceseattle.com/details/parking/.
ANNOUNCING SPECIAL GUEST - EMILY ZULAUF!
Emily is the Fiction Lead for ProbablyMonsters, a new gaming/entertainment studio. She oversees development of the story, characters, and cinematics. Prior to her foray into gaming, Emily was the Creative Development Associate at Pixar Animation Studios and the Script Supervisor on INSIDE OUT. She taught script development at the Northwest Film Forum and the Tom Skerritt-founded Film School, and she sits on the board of the Seattle Clemency Project. She's also done "script consulting" on occasion, so Craig thinks of her as a used car dealer.
About John & Craig
John August's screenwriting credits include Go, Big Fish, Frankenweenie, Corpse Bride, Charlie and the Chocolate Factory, and both Charlie's Angels movies. His feature directing debut, The Nines, premiered at the 2007 Sundance Film Festival. He also wrote the book for the Broadway musical version of Big Fish. His company, Quote-Unquote Apps, makes several apps of interest to screenwriters, including Highland 2 and Weekend Read. John co-hosts the weekly Scriptnotes podcast, and maintains two websites aimed at budding screenwriters, johnaugust.com and screenwriting.io.
Writer and producer Craig Mazin has made a name for himself as a screenwriter with a knack for appealing to broad audiences over the course of his twenty-year career. His hit films include The Hangover Part II and Part III and Identity Thief. Together, his films have grossed over one billion dollars in theaters worldwide.
Mazin wrote and is executive producing Chernobyl, an HBO limited series dramatizing the events surrounding the nuclear disaster at Chernobyl, starring Jared Harris, Stellan Skarsgard and Emily Watson. Chernobyl will premiere in early 2019.
Mazin is also writing a whodunit-with-a-twist for Oscar-nominated producer Lindsay Doran, a musical film adaptation of the latest Gregory Maguire novel for Wicked producer Marc Platt, and a reimagining of a family classic at Walt Disney Pictures.
Craig can be heard each week on the popular screenwriting podcast Scriptnotes, which he co-hosts with fellow screenwriter John August.
Craig served on the Board of Directors of the Writers Guild of America West from 2004 to 2006 and remains active in guild service. He lives with his wife Melissa and their two children in a small town near Los Angeles.