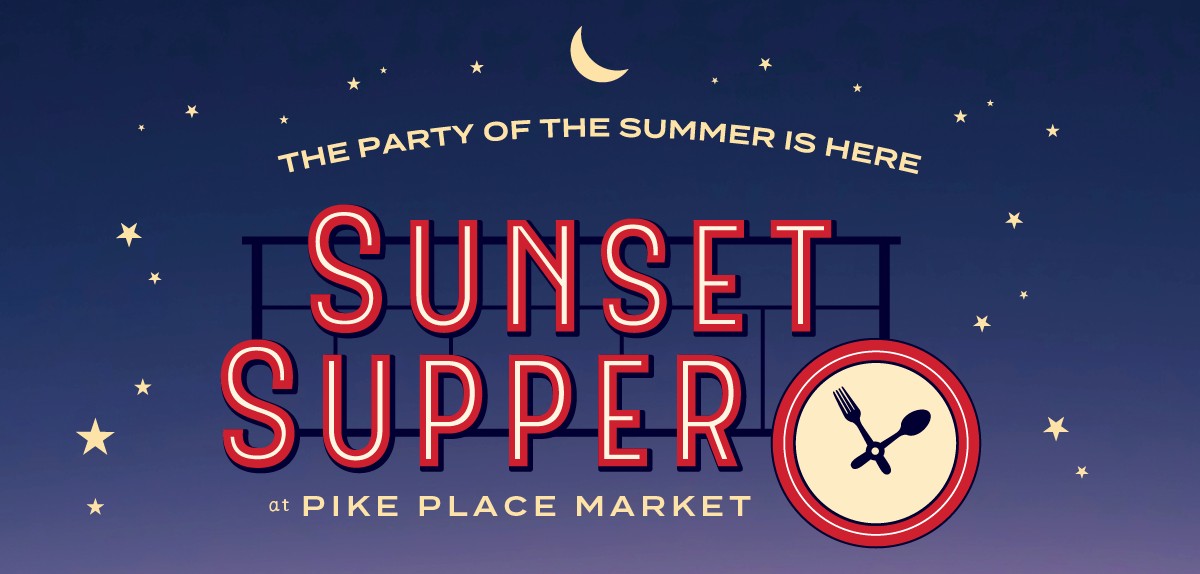 Sunset Supper at Pike Place Market
August 16, 2019 - General Admission 7:30; Patrons 7:00 Entry
Sunset Supper at Pike Place Market is THE Party of the Summer!
Gather your friends and colleagues for a spectacular evening as we change the iconic Market into Seattle's most unique party venue. Sip and savor your way through 100 of our region's gourmet food, wine, spirits and beer, while meeting local chefs and winemakers. Bring your refreshments out to the MarketFront and soak up the gorgeous sunset views of Elliott Bay, the Great Wheel and the beautiful Seattle skyline.
After sunset, dance the warm August night away under the stars to live music and join the Golden Raffle with chances to win fabulous prizes. We are happy to welcome back the talented and energetic 8-piece band Oncore from last year's 2018 Sunset Supper!
All food and drink are included with ticket purchase. Proceeds benefit The Pike Place Market Foundation to nurture a thriving Market community.
*NEW* Start drooling over our 2019 vendor list:
3 Howls Distillery & Backbeat Bourbon
Abacela
Abiqua Wind Vineyard
Aerlume
All Water Seafood & Oyster Bar
Anne Amie Vineyards
Armstrong Family Winery
Art Marble 21
Athenian Seafood Restaurant
Atrium Kitchen at Pike Place Market
Ballard Annex Oyster House
Baroness Cellars
Bavarian Meats
Bayernmoor Cellars
Ben Paris
Bluebird Ice Cream
Café Campagne
Caffe Umbria Coffee Roasters
Canned Oregon
Cedergreen Cellars
Chan Seattle
Chukar Cherries
Conversation at Thompson Seattle
Copperworks Distilling Company
Cutters Crabhouse
Davids & Co.
DeLaurenti Food & Wine
DeLille Cellars
Diamond Knot Craft Brewing
Drum Roll Wine
DRY Soda
Elemental Cellars
Eleven Winery
Ellenos Real Greek
Elysian Brewing Company
Encore Cider
Etta's
Finnriver Farm and Cidery
Five Star Cellars
Forgeron Cellars
Frankie & Jo's
Girl Meets Dirt
Goldfinch Tavern at Four Seasons
Goose Ridge Estate Vinyard and Winery
Guardian Cellars/Newsprint Winery
Hedges Family Estate
Hellbent Brewing Company
Honest Biscuits
Ivar's Acres of Clams
J Bookwalter
Joe Chocolate Co.
Johnny Walker Gold Label Reserve
Le Bec Fin by Chateau Beck
Le Coin
Le Pichet and Café Presse
Long Road Winery
Los Agaves
Lowercase Brewing
Macadons
Macrina Bakery & Cafe
Maryhill Winery
Matt's in the Market
Mercer Wine Estates
Molly Moon's Homemade Ice Cream
Neighborhood Grills and LunchBox Laboratory
North Bend Bar & Grill
Northwest Biscotti
Old Stove Brewing
OOLA Distillery
Outlier
Pasta Casalinga
Patterson Cellars
Pike Brewing Company
Pike Place Chowder
Pike's Pit Bar-B-Que
Pizza and Pasta Bar
Portage Bay Cafe
rachel's ginger beer
Raining Cookies
Republic of Cider
RN74
Rob Roy
Rocky Pond Winery
Sam Choy's Poke to the Max
Schilling Cider
Seattle Kombucha Company
Seattle Pops
Shug's Soda Fountain + Ice Cream
Sidetrack Distillery
Snoqualmie Falls Brewery
Starbucks
Storyville Coffee Company
Succession Wines
Sweet Momma Brown
Tankard and Tun
That Brown Girl Cooks!
The Essential Baking Company
The Hart and The Hunter
The Nest at Thompson Seattle
The Princess and The Bear
The Wine Trust/ J&A Sales
Theo Chocolate
Torii Mor Winery
Treveri Cellars
Tsillan Cellars
Uli's Famous Sausage
Westland Distillery
Wild Roots Spirits
Wilridge Winery
Wines of Substance
Woodhouse Wine Estates
Zylberschtein's Delicatessen & Bakery