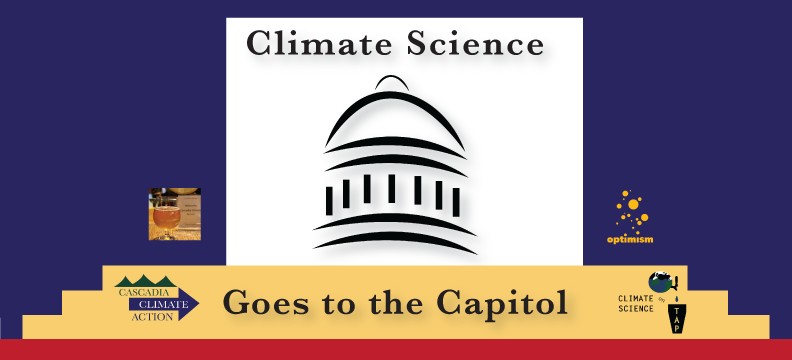 Climate Science on Tap presents:
Climate Science Goes to the Capitol
Mon, Apr 8 from 7pm - 8pm
All ages
Dogs allowed
Food truck on site
Outside food and non-alcoholic beverages okay.
General Admission
more info
All seating is on a first come basis. Due to the popularity of these events, early arrival is encouraged!
Support Climate Science on Tap Events
more info
Support goes to pay for costs of printing, supplies and other expenses that make these events possible. Thank you for your support.
How do we translate science into policy? Can the legislative process address the growing threat of climate change? And how can informed citizens make a difference? Join us for the next Climate Science on Tap to find out! Our experts will share their experience communicating science and advocating for action in our state capitol with enlightening presentations and a thoughtful panel discussion. Come with questions, have a tasty brew, share in a conversation, and leave with answers!
Panelists will include: Aseem Prakash, PhD, Director of the Center for Environmental Politics, University of Washington, Greg Rock, Policy Chair, Carbon Washington; and Jessyn Farrel, Washington State legislator (2013-2017).
On site food truck. Okay to bring in outside food and non-alcoholic beverages. All ages and dogs welcome.
The video of February's Climate Science Goes to Court is worth watching, if you missed that event! To get alerts to future Climate Science on Tap events, sign up with Cascadia Climate Action for their Updates!
Tickets: Free or Option to purchase a $10 ticket to support these Climate Science on Tap Events.