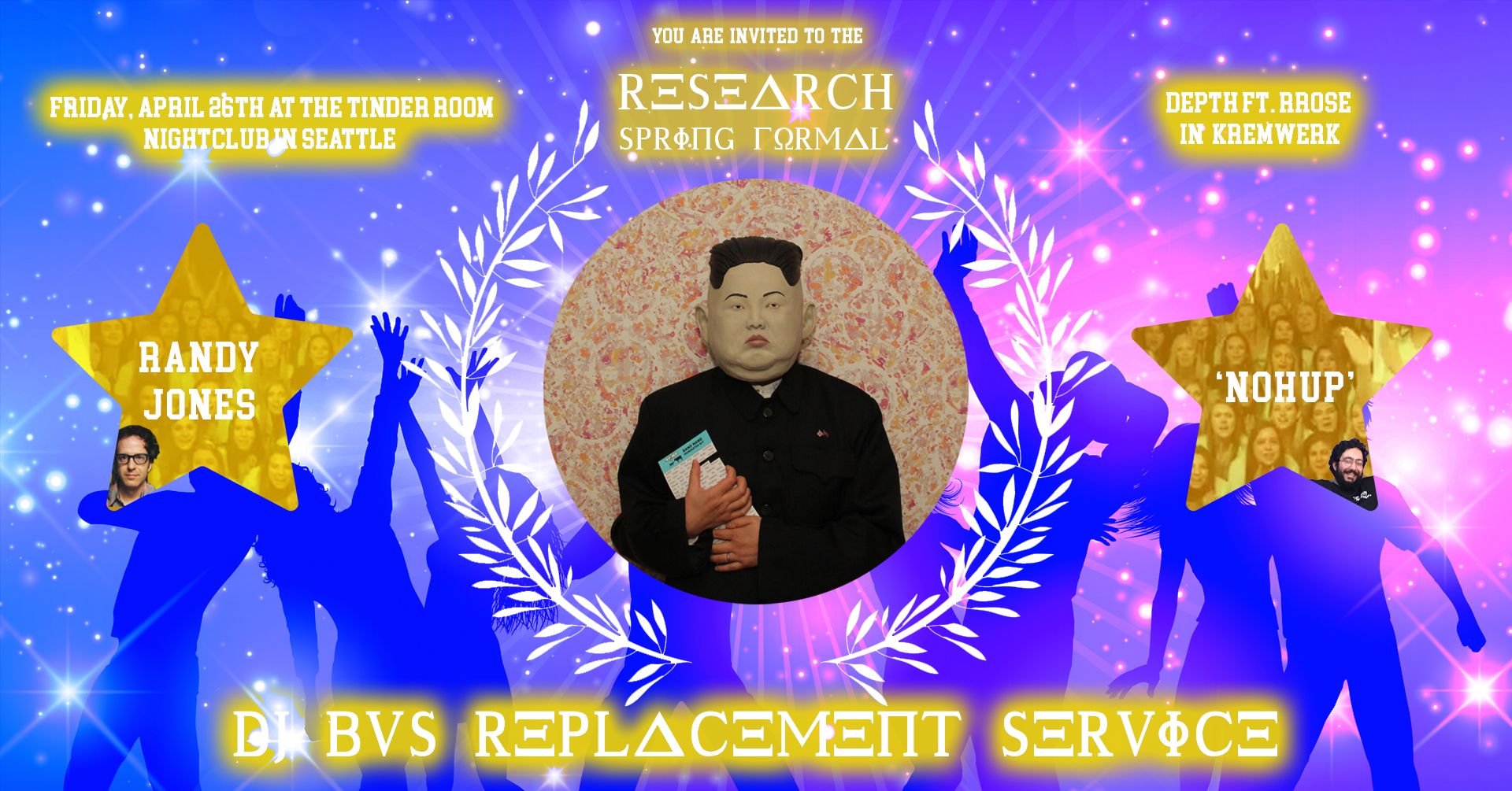 Research [Spring Formal] ft. DJ Bus Replacement Service


with 'Nohup' & Randy Jones
Fri, Apr 26, 2019 at 10pm
Research is excited to present an evening with...

DJ Bus Replacement Service (Seattle Debut!)
https://www.residentadvisor.net/dj/djbusreplacementservice

'Nohup'

Randy Jones
https://soundcloud.com/zxcxzxc

Get Tickets: [XXXXX]

Kremwerk
1809 Minor Ave.
Seattle, WA
http://kremwerk.com/
21+

………………………………………

Research seeks to provide a safer space for attendees to thrive on the dancefloor. Those who exhibit racist, sexist, homophobic, transphobic, ableist, ageist, and/or physically/sexually/verbally aggressive behavior will be bounced for the night and potentially barred from future events. If you experience any of the above please contact a member of Kremwerk staff.

Thank you for supporting underground dance music in Seattle.
If you're down with the cause, please invite your friends to this event / spread the word ♥ See you on the dancefloor! 👠

………………………………………

Sign up for the Kremwerk + Timbre Room Complex mailing list on our website, to stay in the loop about upcoming events, ticket giveaways and more!
http://www.kremwerk.com/

………………………………………

About…
DJ BUS REPLACEMENT SERVICE
DJ Bus Replacement Service started out in 2009 with podcast mixes sharing her outsider music collection onto the unsuspecting public, which led to DJing at Shitmat's Wrong Music parties, Bang Face, and an undefeated record in DJ soundclashes against Chin Stroke Records boss DJ Detweiler. In November 2018 she joined Rinse FM as part of their rotating roster of residents.

The current form of DJ Bus Replacement Service performances is a head-spinning rush of anything-goes bangers. With techno and hardcore forming the base layer of her sets, she wastes no time criss-crossing Asian hip-hop, yodelling, Russian donk, spoken word, and other lesser-known and underappreciated genres like that should have no logical intersection whatsoever on the dancefloor, yet somehow brings dancers to rapture in delight and "eureka!" moments.

………………………………………

Kremwerk strives to be a safe space. The following actions or display of behavior will not be tolerated: bigotry, racism, sexism, transphobia, homophobia, misogyny, ableism, as well as the disrespect of the rules of consent. Our staff is here to support you.

Kremwerk is currently not an ADA accessible space. Club entry is through a flight of 12 metal stairs, with two small steps leading into the main part of the club. We have 2 restrooms with a total of 3 stalls and 1 urinal, all gender neutral. If you would like access to single-stall restrooms, please don't hesitate to ask our door & security to allow entry upstairs into Timbre Room, which has 2 single-stall gender-neutral restrooms.

For any questions about safety & accessibility, please email info@kremwerk.com.