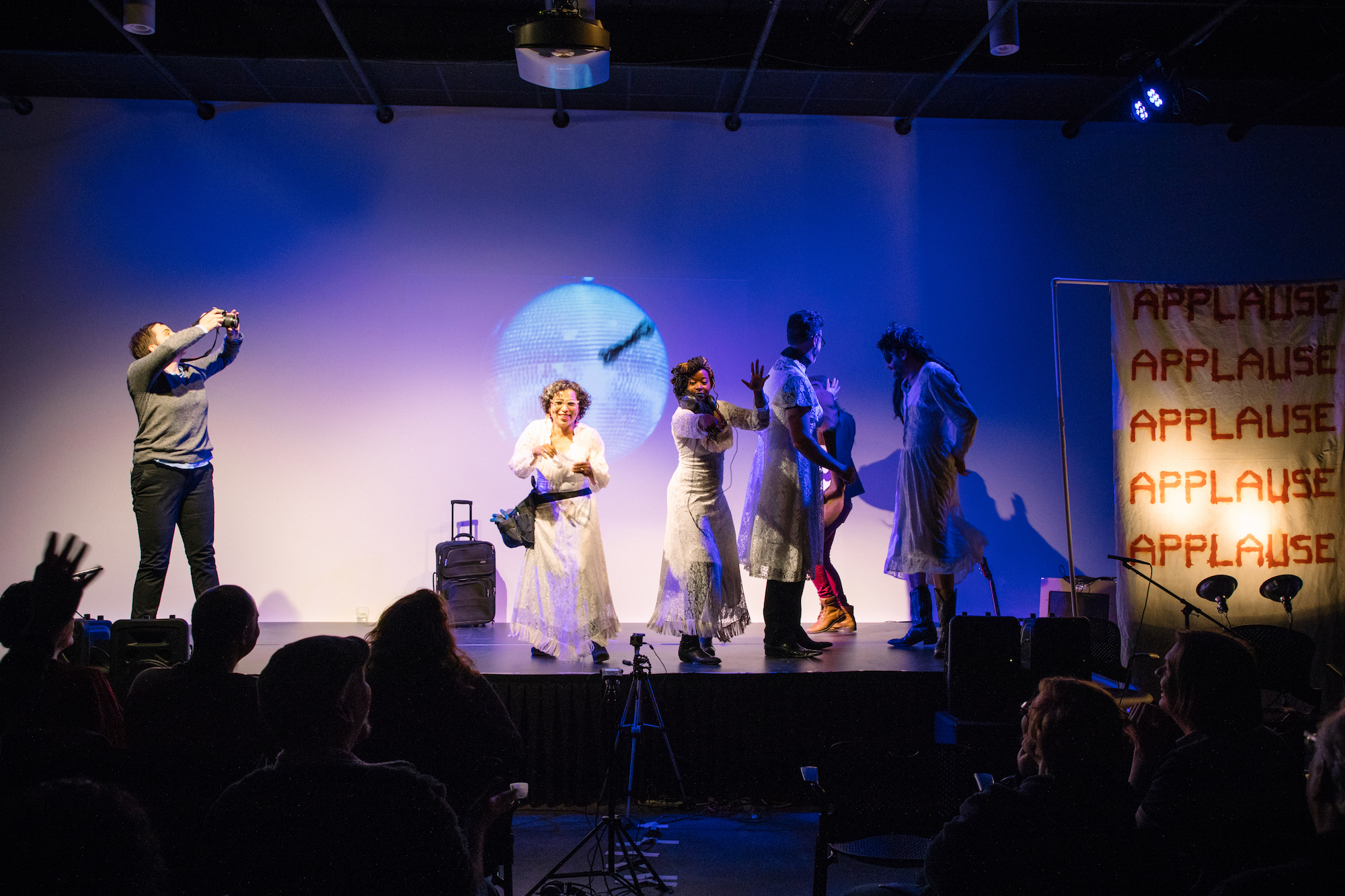 Mixed Bag: A Comedy & Music Show
Doors and drinks at 7 p.m. ⎮ Show at 8 p.m.
Advance tickets $8; $12 at the door.
Seattle's husband and wife comedy-music duo return for another evening of sketch comedy, live music, literary arts and stop motion animation in MIXED BAG, on stage at Hugo House's Lapis Theater!
Hosted by poet and humorist Jeanine Walker and musician Steve Mauer,this episode of MIXED BAG will feature actors Amelia Peacock and Chris Walker, fiction writer Ramon Isao, and poet Sierra Golden.
Mixed Bag has a track record of delivering an entertaining combo of ironic, literary humor punctuated by catchy musical numbers in the tradition of Saturday Night Live...with a decidedly Seattle twist.
---
Jeanine Walker is a poet who fell in love with hosting events during her four-year stint as host of Cheap Wine & Poetry and Cheap Beer & Prose at Hugo House. She was the Seattle Review of Books' poet-in-residence for April 2018, and her writing has been published or is forthcoming in Chatthoochee Review, Cimarron Review, Hotel Amerika, Narrative, Pleiades, and other journals. She loves to teach, and she teaches poetry to elementary school students through Seattle Arts & Lectures' Writers in the Schools program and to adults at West Seattle Library for Hugo House's Seattle Writes program. Jeanine also works as a writing coach for individuals engaging in poetry, fiction, and essay writing.
---
Steve Mauer spent his teen years and early 20s lying about his age so his band could play in the dive bars of Chicago. After receiving a BA in English from Illinois State, Steve moved to Seattle where he continued playing in bands while pursuing a degree in web design at Seattle Central. Steve's one-half of the music duo (along with Jeanine Walker) The Drop Shadows, which had its first show at the High Dive in 2013 and has played at The Comet, Tim's Tavern, Mineral School, Lit Crawl, Bumbershoot, and elsewhere. In addition to Mixed Bag, Steve also directs short films and music videos, many of which have been featured in Mixed Bag over the years.
---
Amelia Peacock is thrilled to be back with her Mixed Bag family in a new creative home! A "best coast" transplant from Minnesota, Amelia received a BA in Theatre Arts and English from the University of Iowa. Some favorite University credits include: In the Next Room (Sabrina Daldry); Spring Awakening (Thea); She Stoops to Conquer (Miss Constance Neville); and Makeover: A New Musical where she originated the role of Marilyn. By day, Amelia works as the ACTLab Marketing Manager at ACT Theatre. She would like to thank Jeanine, Steve, and Chris for their constant humor, friendship, and collaboration, and her family, friends, and colleagues for all their love and support. To Albert and our cat, Fig, it is a joy to share this life with you. Thank you for your unconditional love and cuddles.
---
Chris Walker currently works in radio and has previously worked in books. He should. He's got the face for it. He is the brother and brother-in-law, respectively, of the world-famous Jeanine Walker and Steve Mauer, founding members of The Drop Shadows and creators extraordinaire of the variety show Mixed Bag. As such, he was reluctantly cajoled into appearing in the first ever Mixed Bag when one of the previously scheduled talents ducked out. After taking several hard falls onto concrete and reading his lines off large cue cards on the ground, Chris agreed to appear in future episodes. When, in a future episode, Chris, who had stuffed himself into a Bat Suit like a sausage, forgot his lines, he agreed to sign on to become a permanent member of the cast. Well, as permanent as one can be while we're all sliding towards the grave. He enjoys making people laugh and generally has a smart remark for every situation, even if it remains unsaid.
---
Ramon Isao is a recipient of the Tim McGinnis Award for Fiction, as well as a writing fellowship from Jack Straw Cultural Center. His stories have appeared in The Iowa Review, Ninth Letter, Hobart, and The American Reader. He is also an award-winning screenwriter, whose screenplay credits include Dead Body, Zombies of Mass Destruction, and Junk (in which he co-stars). He has an MFA from Columbia University, and he loves teaching creative writing at Hugo House in Seattle.
---
Born in Alaska and raised in rural Washington State, Sierra Golden worked on commercial fishing boats for nearly a decade. In 2012, she completed an MFA at North Carolina State University. She currently lives in Seattle, works for Casa Latina, an immigrant and worker rights organization, and writes for National Fisherman. Her poems have appeared in journals such as Prairie Schooner, Orion Magazine, and Ploughshares. The Slow Art, her first full-length collection, won the 2018 Dorothy Brunsman Poetry Prize and will be released in September 2018.