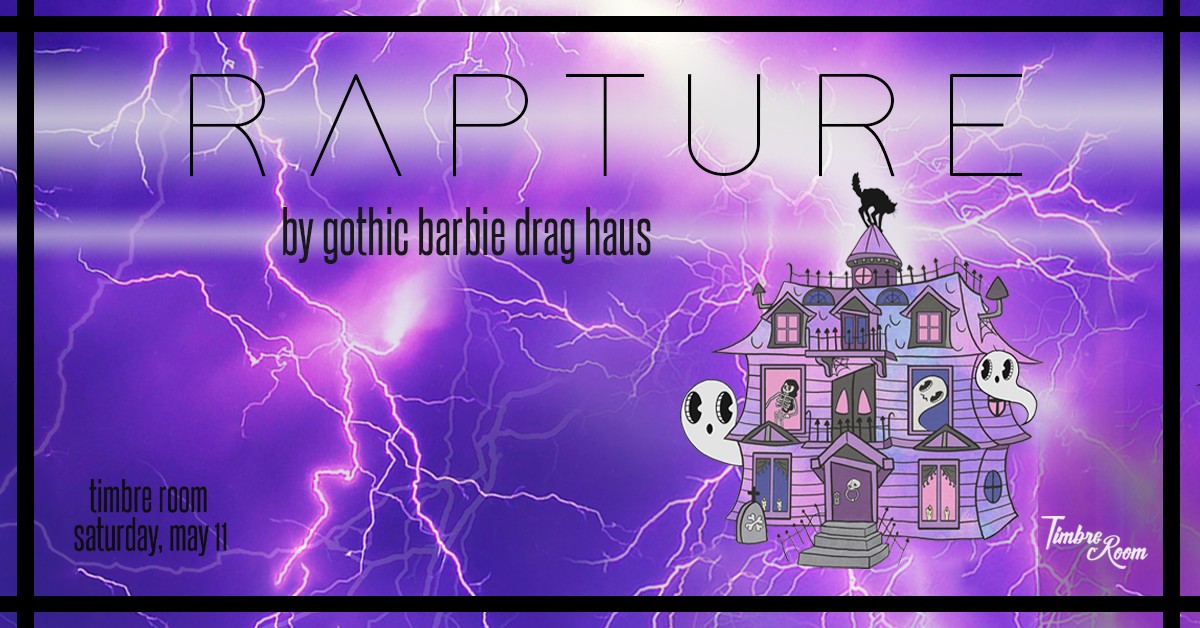 Rapture ft. Gothic Barbie Drag Haus
Timbre Room & Gothic Barbie Drag Haus are proud to present the thirty-third installment of Rapture: A Queer Avant Garde Extravaganza.

Rapture is a queer evening for avant-garde experimentation, boundary-bursting drag performance, and overall club kid dance vibes. There will be photos and a curated runway for attendees, so get. your. look.

Guest Curator Info: With the likes of members Vincent Milay, Ether Réal, Lady Miss Kiki, D'Monica Leone, and Peach E Mogee, Gothic Barbie Drag Haus could very well be a fever dream of Mr. Vincent Price himself. Paying homage to the old fashioned Horror Movies of yesteryear, with a pinch of pastel, bats, cats, and witches a-plenty. A sure treat to get a cavity going at any pagan party, every night is Halloween here.Show Format: All performances will be spread throughout the evening, so come early and stay late!

Hosted By:
Vincent Milay
Ether Réal
Performances by:
Peach E Mogee
Lady Miss Kiki
D'Monica Leone
Music by:
DJ MIXX America
Morgue Anne

Photos by:
Parade Images [Keith Johnson]

Booth by:
Lazarus Rise

Saturday, May 11th.
Doors 10PM

$10 Advanced Tickets
$12 Day of Show
$7 w/ Critter Barn
===========
Timbre Room
1809 Minor Ave
Seattle, WA
21+
===========
Timbre Room does not tolerate bigotry, sexism, homophobia, transphobia, racism, misogyny, ableism, or any discriminatory actions. Security is strictly enforcing these rules, and those who do not abide by these rules will be told to leave.

Timbre Room is ADA accessible with a ramp to the front door/bar area, and access to the back door/dance area through the patio area, and 2 accessible gender neutral restrooms available. If you have any questions about the safety or accessibility of this venue, please email info@timbreroom.com