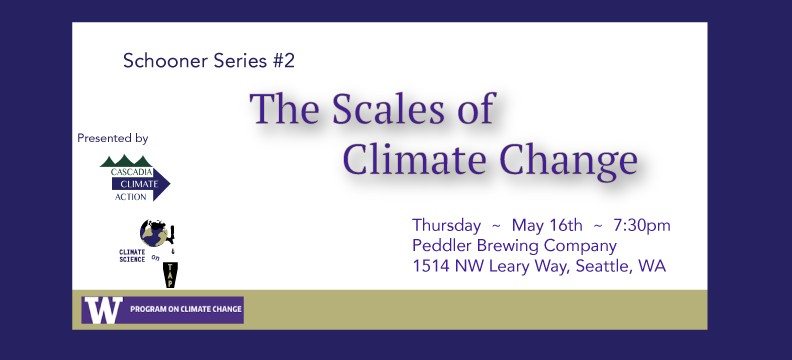 Climate Science on Tap presents:
Scales of Climate Change


Schooner by UW Program on Climate Change Grad Students
Thu, May 16, 2019 at 7:30pm
All ages and dogs welcome
Food truck
Beer
As an issue that spans multiple scales and dimensions, climate change impacts our lives and the lives of others in small and large ways. Join us for this Schooner Series as we take a look at the time and space scales spanned by human-induced climate change; the scales of the costs associated with a changing climate; and the scales of action we can take, ranging from individual up to global levels. When it comes to climate change, talking about effects and impacts can be a challenging task. We're here to serve up some big topics in pint-sized packages with a fun, informative, conversation over a couple of brews.
Panel:
- Judy Twedt, Atmospheric Sciences
- Lucas Zeppetello, Atmospheric Sciences
- Others TBD
Sponsored by the University of Washington Program on Climate Change and Cascadia Climate Action.