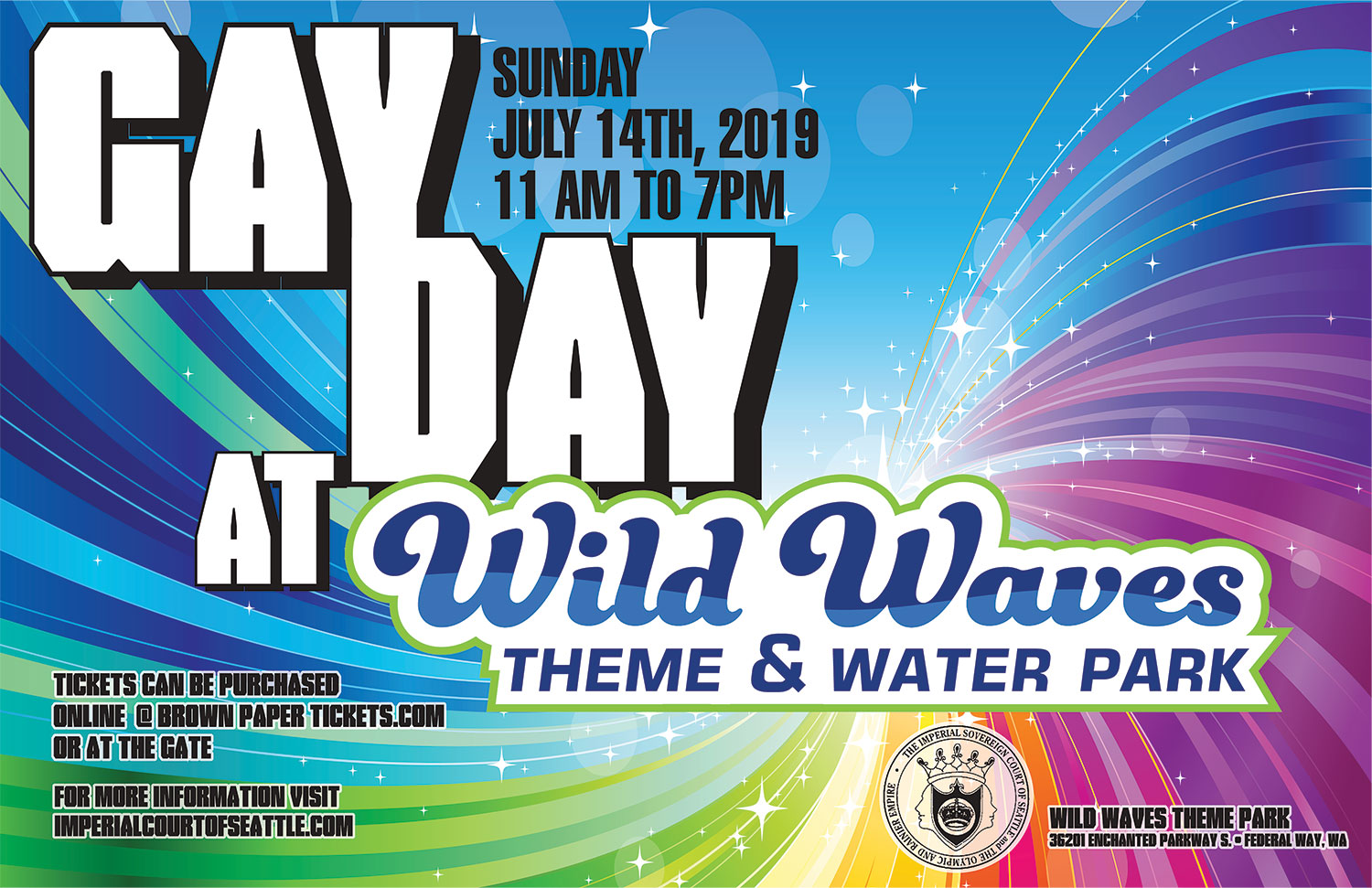 Gay Day at Wild Waves 2019
Sun, Jul 14, 2019 at 11am
All Ages
Gay Day
LGBT
LGBTQ
Court of Seattle
Wild Waves
Wild Waves Theme Park
Fundraiser
Imperial Sovereign Court of Seattle
Gay Day at Wild Waves
Drag Queens
Performances
Drag Kings
We're bringing a Gay Day Picnic Party Fundraiser to the Cascade Picnic area at Wild Waves Theme Park!
We will have our own food vendors with prices lower than those in the park. Additionally, all proceeds raised from our vendors will be going to certified 501(c)3 charities.
We will have our own bag check, with prices MUCH lower than renting a locker in the park. Our bag check will be located next to our private bathroom facilities, allowing you to change in relative privacy away from the crowd.
We will have our own entertainment stage, with the Northwest's premier drag entertainers, and maybe a surprise or two.
We will have our own beer garden (21+ with ID), with prices lower than in the main park.
The only way to get access to all the great extras we have in store for Gay Days at Wild Waves is to purchase your ticket from The Imperial Sovereign Court of Seattle via Stranger Tickets OR at our special kiosk at the main entrance.
We HIGHLY recommend that you pre-purchase your tickets via Stranger Tickets as we will have a separate check-in at the entrance for Stranger Ticket holders that will greatly reduce your wait at the gate.
If you purchase a discounted ticket through some other means, you will not be able to access our private party grounds with our specialty vendors.
Additionally, pre-purchasing your ticket will help us to gauge our attendance so that we can ensure we have enough for everyone at our vendor stations.
Did we mention that ALL proceeds from this event will be going to charity? All of our participating organizations responsible for vendor booths are 501(c)3 registered charities. No motives other than good works on behalf of our community.
Remember that the park WILL be open to the general public, and all guests will be expected to abide by Wild Waves policy.
ALL AGES WELCOME!
This is an exclusive event and will only be open to those who pay for the Gay Day at Wild Waves, no general admission park attendees will have access to the Cascade Picnic Grove.