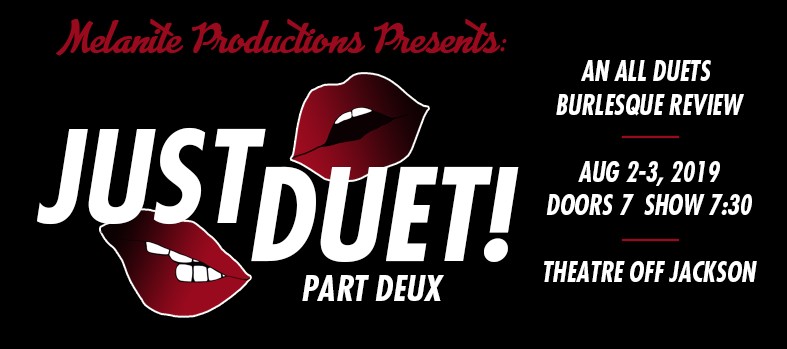 Melanite Productions presents
Just Duet! Part Deux


An All Duets Burlesque Revue, Second of its Name
Fri, Aug 2 at 7:30pm
21+
The shows on each night are completely different from each other, please be aware of the night for which you are purchasing!! Purchasing ticket to both nights is encouraged!
Double your pleasure, double your fun with this two-of-a-kind show that features only burlesque and cabaret duet acts! With unique lineups each night you can continue to double your fun with tickets to both nights! This is the second production from Melanite Productions, a collaboration between Miz Mel's Cabaret co-founder Miz Melancholy and Redd Kryptonite! They can't wait to Just Duet (again) with you!
the Friday cast, in no particular order:
Miz Melancholy & Redd Kryptonite
Scarlett O'Hairdye & Crystal Storm
Manny Schevitz & Rover Suede
Karmen Sutra & Apollo Vidra
Noelle Noir & Annie Pozishen
Dame SinCyr & Kandie Rayne
Baby LeStrange & Hyacinth Lee
Senara Silver & Belle Bizarre
Jo Jo Stiletto as Aunt Franzea & Mahria Zook The Actress
Hosted by Miz Melancholy & Redd Kryptonite
Doors at 7pm. Curtain at 7:30pm.
Partial funding provided by the Seattle Office of Art's & Culture.
Theatre Off Jackson and the producer strive to be as accessible and inclusive as possible. Please contact us if you have any questions. Our venue is accessible by wheelchair and other mobility devices. Please contact us in advance so we can ensure your experience is as smooth as possible.