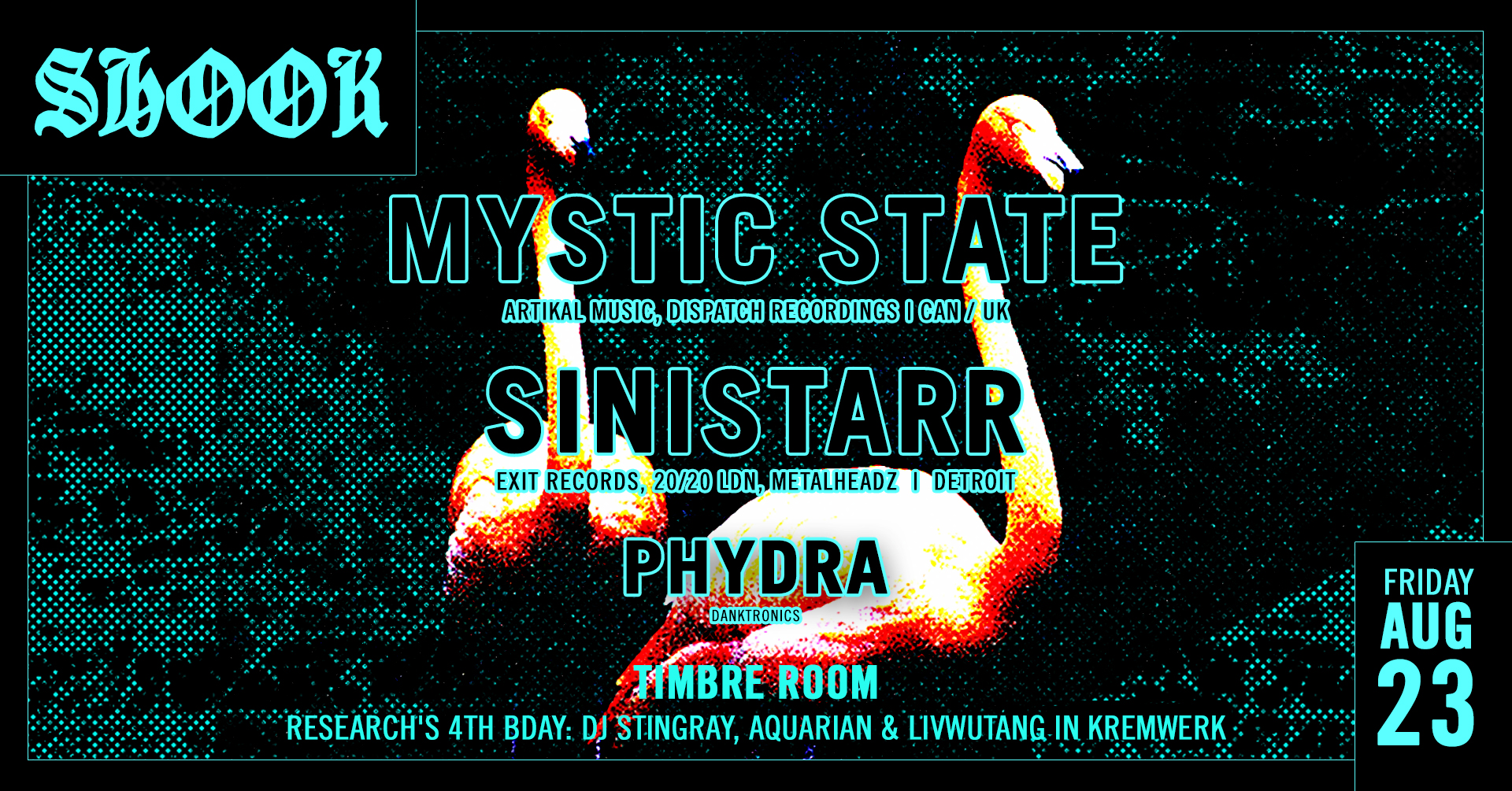 Shook: Mystic State & Sinistarr
Fri, Aug 23, 2019 at 10pm
Shook at Kremwerk invites you to a night with...
Mystic State (Seattle Debut!)
[Artikal Music, Dispatch Recordings ⎮ CAN / UK]
https://soundcloud.com/mysticstate
Sinistarr
[Exit Records, 20/20 LDN, Metalheadz ⎮ Detroit]
https://soundcloud.com/sinistarr
Phydra
https://soundcloud.com/phydrabass
◆ Ticket + Combo Ticket Info ◆
A combo ticket grants you access to Research's 4th Bday: DJ Stingray, Aquarian & livwutang in Kremwerk (downstairs), as well as Shook: Mystic State & Sinistarr in Timbre Room (upstairs), plus the patio outside of Timbre Room. Individual event tickets are available as well.
Get Tickets:
∻∻∻∻∻∻∻∻∻∻∻∻∻∻∻∻∻∻∻∻∻∻∻∻∻∻∻∻∻
Timbre Room
1809 Minor Ave.
Seattle, WA
21+
∻∻∻∻∻∻∻∻∻∻∻∻∻∻∻∻∻∻∻∻∻∻∻∻∻∻∻∻∻
Sign up for the Kremwerk + Timbre Room Complex mailing list on our website, to stay in the loop about upcoming events, ticket giveaways and more!
∻∻∻∻∻∻∻∻∻∻∻∻∻∻∻∻∻∻∻∻∻∻∻∻∻∻∻∻∻
Timbre Room does not tolerate bigotry, sexism, homophobia, transphobia, racism, misogyny, ableism, or any discriminatory actions. Security is strictly enforcing these rules, and those who do not abide by these rules will be told to leave.
Timbre Room is ADA accessible with a ramp to the front door/bar area, and access to the back door/dance area through the patio area, and 2 accessible gender-neutral restrooms available. If you have any questions about the safety or accessibility of this venue, please email info@timbreroom.com