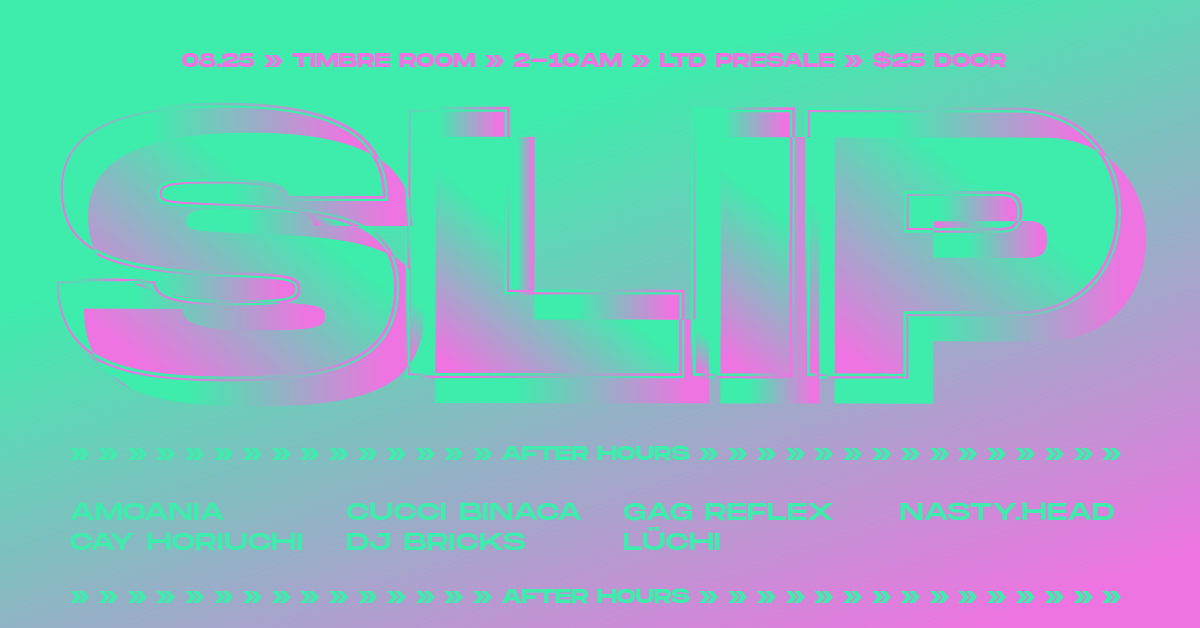 S L I P
SLIP: After Hours
LATE NIGHT/SUNRISE JAMS BY:
CAY HORIUCHI
DJ GAG REFLEX
DJ BRICKS
EARLY MORNING SHOWS BY:
AMOANIA
LÜCHI
CUCCI BINACA
VISUALS BY:
NASTY.HEAD
DESIGN BY:
STEVEN DIDIS
S L I P
TIMBRE ROOM — ALLEY ENTRANCE
ABOUT LOCATION
- ADA ACCESSIBLE
- GENDER NEUTRAL POWDER ROOMS
- INDOOR & OUTDOOR DANCE FLOORS
- OUTDOOR COVERED & OPEN PATIO
- 6AM MIMOSAS & COCKTAILS
- FREE WATER PROVIDED
- NOT A SCENT-FREE SPACE
Saturday Night / Sunday Morning
08/25/2019
2AM - 8AM
=========
Timbre Room
1809 Minor Ave
Seattle, WA
21+
=========
The Kremwerk + Timbre Room Complex strives to be a safer space. The following actions or display of behavior will not be tolerated: bigotry, racism, sexism, transphobia, homophobia, misogyny, ableism, as well as the disrespect of the rules of consent. Our staff is here to support you.
Kremwerk is currently not an ADA accessible space. Club entry is through a flight of 12 metal stairs, with two small steps leading into the main part of the club. We have 2 restrooms with a total of 3 stalls and 1 urinal, all gender neutral.
Timbre Room is ADA accessible with a ramp to the front door/bar area, and access to the back door/dance area through the patio. 2 accessible gender-neutral restrooms are available.
For any questions about safety & accessibility, please email info@kremwerk.com