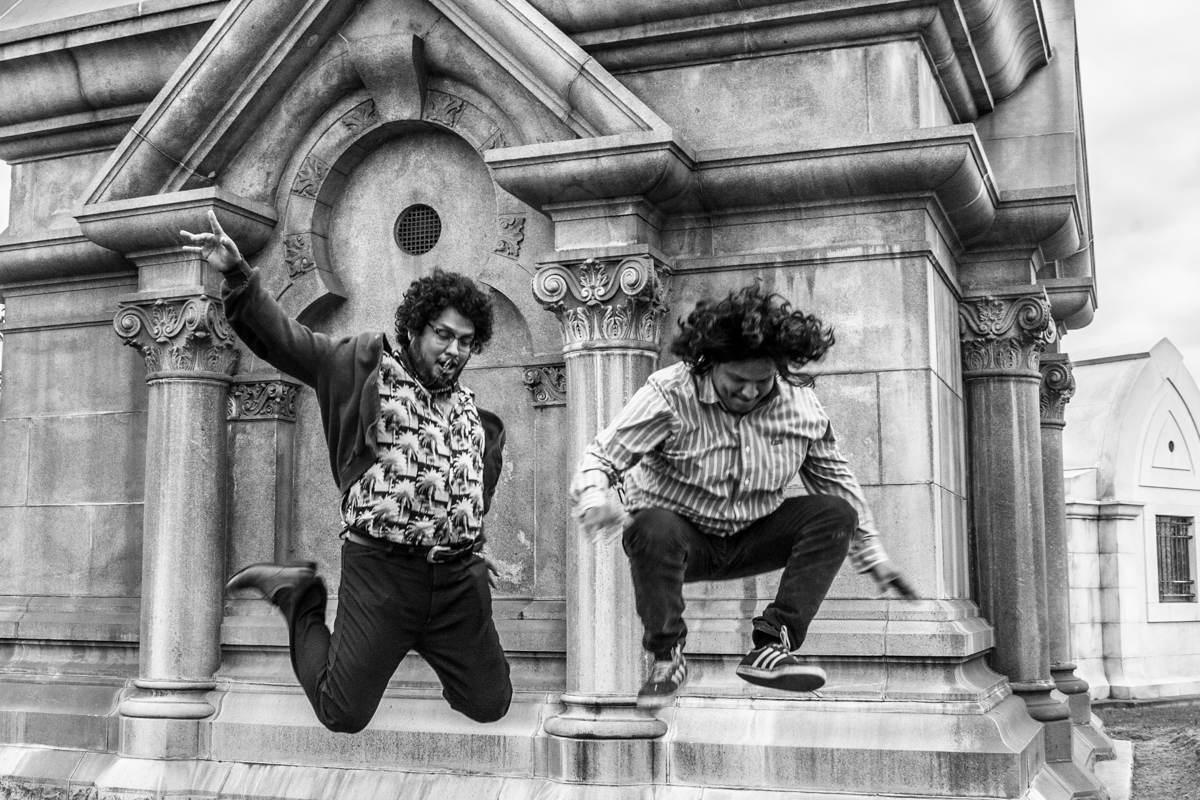 Tropa Magica + Acid Tongue
Freakout Records is proud to present Tropa Magica with Acid Tongue at Belltown Yacht Club (Screwdriver Bar).
TROPA MAGICA
Pacheco Brothers, David and Rene, began their prolific music careers as Thee
Commons; underdogs in the East L.A. music scene. Inspired by the Roots of Chicha
compilations and the psych rock sounds coming out of Southern California they embraced both
worlds with open arms. Unable to properly play "cumbia" rhythms they quickly learned from their
peers in Boyle Heights and gave their best interpretation of the genre. High-spirited and
determined they worked on a formula that would become their signature "Psychedelic Cumbia
Punk" sound. A sound, not latino enough for the Mexicans nor surf enough for the psych-punks.
This paradoxical approach, gregarious attitude, and live wire shows landed them slots on West
Coast festival favorites, namely Coachella, Desert Daze, and Tropicalia. LA Weekly made it
clear: "If Thee Commons aren't the best live band in Los Angeles, they're damn near the top."
However, after 3 LP's and a collection of EP's and singles, the brothers Pacheco
decided to work on a different live and studio sound. Seeking a new sound they were inspired
by the likes of Django Reinhardt, Joan Sebastian, Edith Piaf, Meridian Brothers and obscure
soundtracks by Nino Rota. Yet, rather than start from scratch the brothers expanded on their
"psychedelic cumbia punk" sound and reshaped it with a cinematic, orchestrated and
carnivalesque twist. With the support of their friends and family they moved forward with the
idea to rebrand and start anew. Focusing on their song craft, they began to experiment with
different instrumentations and working with a myriad of studio musicians. Maturing as
songwriters the brothers are now faced with the challenge of presenting their studio recordings
onto a live stage. All the meanwhile, they are also endlessly working on converting new and
previous Thee Commons fan to join the Tropa Magica caravan.
ACID TONGUE
ACID TONGUE is an American-bred garage band heavily influenced by AM-radio soul, folk and psychedelic rock. The band is composed of songwriter GUY KELTNER, and drummer/designer IAN CUNNINGHAM—perverted in their youth by adolescent exposure to mind-altering substances and strange, spiritually-driven parenting techniques.
When we last left our heroes, the boys of Acid Tongue were wandering the United States & Europe spreading their psychedelic, lovestruck gospel. The band has come a long way since the release of their debut album, BABIES, back in the Fall of 2017.

They've toured extensively throughout the United States, Canada, Europe, & Mexico; completely butchered the French language at their recent sold-out show in Paris; kicked off the first annual Hipnosis Psych Festival in Mexico City (attending not one but two Lucha Libre fights); founded their own DIY indie label, FREAKOUT RECORDS, and organized/booked a music festival: Seattle's annual FREAKOUT FESTIVAL.
HAVE FUN WITH THE TONGUE.