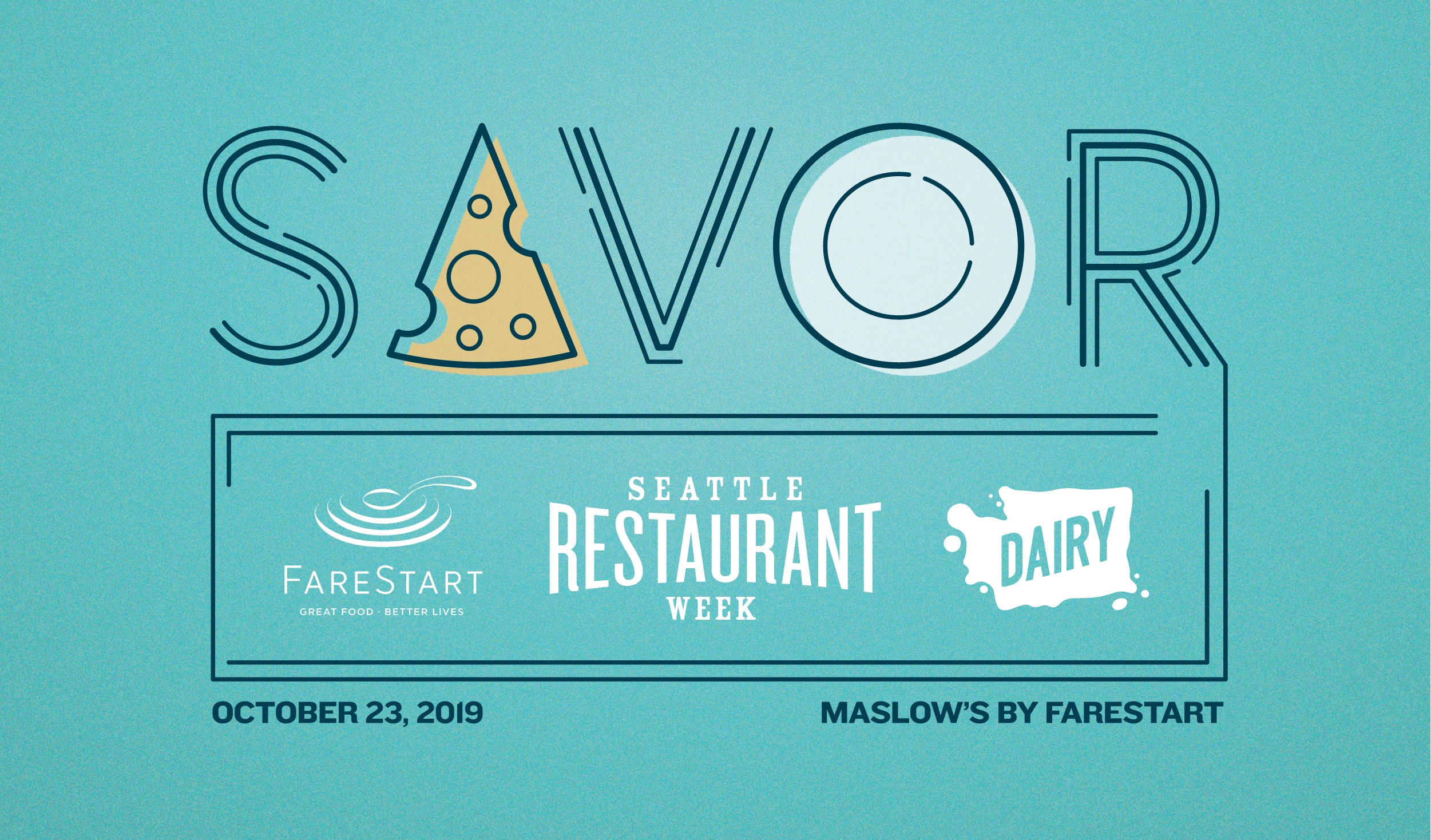 Savor Seattle Restaurant Week


In Partnership with FareStart and Dairy Farmers of Washington
Early Access: 4:45 - 7:30 pm General Access: 5:30 - 7:30 pm
If you love local food and supporting your community, this event is for you! Join us Wednesday, October 23rd at Maslow's by FareStart to help us celebrate the launch of another fantastic Seattle Restaurant Week!
Savor Seattle Restaurant Week will bring together five renowned chefs and local dairy purveyors to craft delicious bite-sized dishes for our guests. Get a sneak peek at the cuisine on offer during this fall's Seattle Restaurant Week.
General Access Tickets include tastings from five chef featuring local dairy collaborations and three alcoholic or nonalcoholic drinks, and the opportunity to pick up some sweet deals for the upcoming Seattle Restaurant Week. Early Access Ticket holders will also have the chance enjoy an speciality Heritage Distillery Company cocktail, gain early access admission from 4:45 - 5:30 pm, join an intimate meet and greet with the chefs, and receive an exclusive early access gift bag.
Complimentary parking for all guests after 4 pm at 345 Boren Ave N Parking Garage (right across the street!)
Proceeds benefit our partners at FareStart, a Seattle-based nonprofit organization. FareStart has been helping people transform their lives through food for over 25 years - one person, one job, and one community at a time. At FareStart, people overcome barriers by learning work and life skills they need to succeed in the foodservice industry - and in life! FareStart works closely with local restaurants to develop programs that provide the skills most needed in the industry.
Seattle Restaurant Week (October 27th - November 7th) invites people across King County to dine out for a deal. More than 165 restaurants in nearly every neighborhood in the Seattle area offer a special three-course dinner menu for $35, and many also offer two-course lunches for $20 (Sunday through Thursday only; excluding Friday, Saturday and Sunday brunch). Seattle Restaurant Week is a great opportunity to visit the award-winning restaurants you've always wanted to try and to rediscover old favorites.
Seattle Restaurant Week is a program of Seattle Good Business Network, a nonprofit with a mission is to connect and inspire people to buy, produce, and invest locally, so that everyone has a meaningful stake in the local economy.
Don't miss one of the best local culinary events of the year!
Featured Chefs Include:
Kristi Brown | That Brown Girl Cooks
Chef Kristi has spooned her way through the culinary industry for the past 28 years. Starting at a small café in downtown Seattle, Kristi has done just about everything from dishwasher/prep cook to running her own catering business for nearly a decade. From the beginning, her vision was to focus on the art and experience of food through culinary activism. A purpose powered by her mantra, "Everybody's Gotta Eat!" Chef Kristi desires to build community through the cultivation of fresh food and fine cooking. Currently, Chef Kristi is lovingly referred to as Chef Goddess of That Brown Girl Cooks!, a food, culture, and community hospitality group. Simply put, she calls it a "Culinary Collective." TBGC! explores her inspirations, melds them with her experiences, and brings them back to the communities she serves.
Dairy Purveyor Partnership | Beecher's Handmade Cheese
In 2003, Kurt Beecher Dammeier opened his first Beecher's Handmade Cheese Storefront in Seattle's historic Pike Place Market. For Kurt, Beecher's fulfilled an ambition beyond just making great cheese. He has long felt passionately about eating food free of harmful additives and preservatives. Visitors to Beecher's glass-walled cheese making kitchens witness first hand the crafting of their signature favorite, Flagship cheese, as well as many of the other award-winning cheeses. By starting with fresh, pure milk from local farms and applying the traditional methods used by cheese makers for thousands of years, Beecher's cheeses are free of artificial ingredients.

Tori Mann | Lola
Tori took over the Chef position at Lola only two years after working as Sous Chef under her good friend, Chef Matt Fortner. Prior to that, she worked the line for two years at Dahlia Lounge with Chef Brock Johnson. As a Seattle native, Tori grew up in West Seattle and headed to culinary school right out of high school. After finishing her culinary training, she worked with some of Seattle's finest chefs, including Thierry Rautureau at Rover's and Philippe Thomelin at Olivar. Tori lives with her husband Branden and their young daughter Grace in West Seattle. Tori and Branden cultivate a big vegetable garden and raise chickens. They also enjoy fishing and other outdoor activities like mushroom foraging. They go out to eat frequently so they can stay current on Seattle's vibrant restaurant scene. She feels lucky to be around good food and in a good locale, and to be able to experience all that a food focused life has to offer.
Dairy Purveyor Partnership | Zoi
James Rice, the original founder of Auburn Dairy Products (Creator of Zoi Greek Yogurt®) was a hard-working innovator who brought wholesome dairy products to his customers in Auburn, Washington. Now Auburn Dairy Products are enjoyed throughout the Pacific Northwest and beyond, but they have continued to follow the example of excellence James Rice set. With Zoi Greek yogurt, the food of the gods is available to you right here on earth. Zoi translates to "life, active and vigorous." Greek yogurt's heroic nutritional power has made it a revered food since ancient times. It feeds your inner life force so you can head off on your daily odyssey with new zest.
Warren Akana | Pacific Room
Executive Chef Warren was born and raised in Honolulu, HI. He prepares simple but elegant dishes. Always reinventing and elevating classical French cuisine with a Pacific Northwest twist. He supports local, organic and sustainable food practices throughout his cooking. Here at the Pacific Room, he cooks with locally source produce and wild-caught fish (Alaskan Salmon, Rockfish and Halibut). In addition, he also doesn't want to shy away from his Hawaiian heritage and brings in the classical Hawaiian dish, Kalbi Short Rib Loco Moco (Three grilled Kalbi short ribs house made Teriyaki sauce with two eggs over fried rice). He brings out special of the day entree and have the public wanting more and few were brought back based on popular demand.
Dairy Purveyor Partnership | Mt.Townsend Creamery
Ryan Trail, Pamela Trail and Matt Day came to the Pacific Northwest to experience the rugged beauty and adventure. In 2006 they were inspired by their community's vibrant food culture to pursue a passion for delicious artisan cheese. They developed partnerships with nearby family farms to provide quality milk that would create cheese that reflects the character of its community and the essence of the land. Today you can discover Northwest flavor in every bite. Mt. Townsend Creamery is family owned and operated.
Dairy Purveyor Partnership | Twin Sisters Creamery
Inspired by Lindsay & Jeff Slevin's twin girls to pursue their dreams of starting a family business, they blended Lindsay's experience and passion for cheese with Jeff's IT and manufacturing background, embarking on a journey to become artisan cheese makers. They were fortunate enough to work with fellow Washington State cheese makers Willapa Hills, where their inaugural Blue Cheese – Whatcom Blue was born. Twin Sisters Creamery has a focus on community, education and local agriculture. Their mission statement is to produce exceptional, award winning artisan cheese and build a successful business that is a source of pride for our family and community.
Wayne Johnson | Corporate Executive Chef - FareStart
Chef Wayne is the corporate executive chef at FareStart, a James Beard Award-winning nonprofit organization that empowers adults and young people experiencing poverty and homelessness through job training and employment in the foodservice industry. Since 2016, he has overseen the food philosophies, concepts and menus across all of FareStart's restaurants, cafes, catering and other foodservice businesses. Prior to FareStart, Chef Wayne was executive chef at Ray's Boathouse, Andaluca and the prestigious Renaissance Parc 55 Hotel in San Francisco. During his 30-plus years in the restaurant industry, Chef Wayne has earned many accolades. He was selected as an Iron Chef Season 9 challenger and had the honor of cooking for the James Beard House in New York. He also served as vice president of Culinary Wonders USA and is proud to have coordinated their first Minority Chefs Summit.
Sarah Lorenzen | Executive Chef - Maslow's by FareStart
Chef Sarah is the executive chef at Maslow's, which is part of FareStart, a James Beard Award-winning nonprofit organization that empowers adults and young people experiencing poverty and homelessness through job training and employment in the foodservice industry. Prior to FareStart she was the executive chef for Andaluca and worked at the prestigious Renaissance Park 55 in San Francisco. Chef Sarah completed her culinary and pastry apprenticeship at the Mark Hopkins Intercontinental also located in San Francisco.
Dairy Purveyor Partnership | Samish Bay Cheese
Owned and operated by Suzanne and Roger Wechsler, Samish Bay Cheese farms is about 200 acres in the northwest corner of Skagit County, Washington. On the dairy they have a mixed herd, mostly Milking Shorthorns, some crossed with Jersey, Holstein, or Dutch Belted. Their grass-green fields of the Skagit/Samish valley are in an environment well-suited to organic farming. Samish Bay Cheese also raises steers for beef and pigs for pork. Additionally, all of their milk is used to make their cheese, yogurt, and kefir. Samish Bay Cheese is certified organic by the Washington State Department of Agriculture.
Event partners include:
Dairy Farmers of Washington, FareStart, and Seattle Good Business Network.
Thank you to our event partners:
Heritage Distilling Company, Redhook Brewery, Eleven Winery, Lagana Foods and Molly Moon's Homemade Ice Cream.