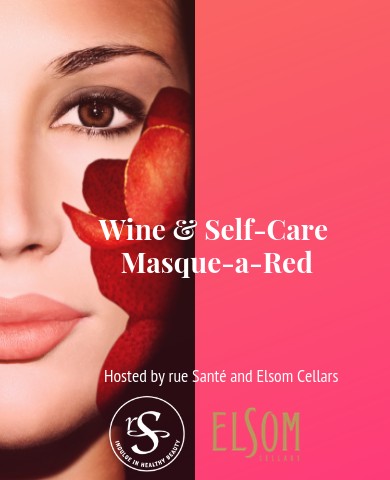 Masque-a-Red with Rue Sante and Elsom Cellars
Come celebrate Halloween early and wine down with us after work at this Artisan Friday. Elsom Cellars is collaborating with local skincare maker, rue Santé to bring you a fun and relaxing evening with friends, tasting delicious wines while you experience a decadent, stress-relieving, skin care ritual. This pampering treatment features rue Santé's Dragon's Blood Hibiscus firming and regenerating face mask, and incorporates mindfulness-based techniques that engage all your senses to deliver beauty-full results for your mind and body.
About rue Santé:
We are a woman-owned, local maker of self-care wellness products including skin, hair, perfumery and lifestyle care. We transform nature's curative flora into healthful solutions for your body and mind. Our purpose is to create luxurious products that promote health, beauty and balance in a sustainable, earth-friendly way. The health of every species is our foremost concern, which is why we use organic-certified, vegan, safe and effective ingredients that deliver maximum impact and value. Our products are solutions designed to synchronize with your body's sophisticated system of repair and renewal to target root causes, not just symptoms. They supplement, replenish and reactivate your natural defenses when your body falls behind. The results are beauty-full.
Tickets: $50
Inclusions: Harvest Red Wine Flight, Dragon's Blood Hibiscus Firming and Regenerating Mask, Mindfulness Sensory Flight, Post-Mask Ultra-Nourishing Skin Care, Self-care Swag Bags (rue Santé Petites: face oil, toner and body conditioner).
Food: Pie & bites available for purchase