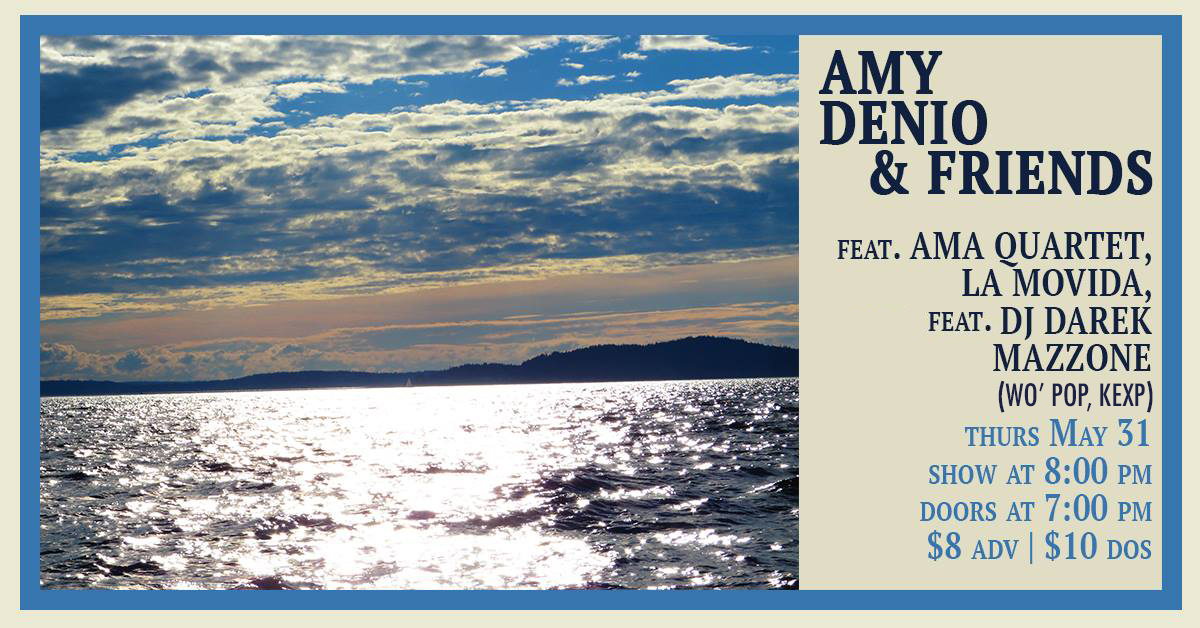 Amy Denio and Friends


ft. AMA Quartet and La Movida, a Latin dance party ft. KEXP DJ Darek Mazzone with live accompaniment
Doors at 7:00pm

Tickets: $8 adv/$10 dos

Seattle Jazz Hall of Fame multi-instrumentalist/vocalist/composer Amy Denio plays The Royal Room with AMA Quartet (acoustic) and the Return of "La Movida," an all-out Latin dance party!!

8pm – AMA Quartet has been described as a 'rarely yodeling, always scintillating Latin American Afro Sephardic Eastern European gypsy circus chamber band!' The group features Madeleine Sosin (vocals, violins, maracas, bombo and jarana), Abel Rocha (vocals, harp, guitar and cuatro), Ricardo Guity (percussion) and Amy Denio (voice, accordion).

10pm – La Movida is an epic Latin dance party, fueled with deep grooves anchored by live DJ Darek Mazzone on turntables (KEXP), and accentuated with live instrumentation from Amy Denio on saxophones (Kultur Shock, The Tiptons), Tige DeCoster on bass (Supersones, West Seattle Soul) and Lalo Bello on percussion (Supersones, West Seattle Soul).

Facebook Event

Please note: Tickets do not guarantee seating during shows at the Royal Room. For sold out shows standing room may be the only available space. Please come early to ensure you get a table. Reservations can be made for those who are coming for dinner as well as the show. The Royal Room is All Ages until 10pm.