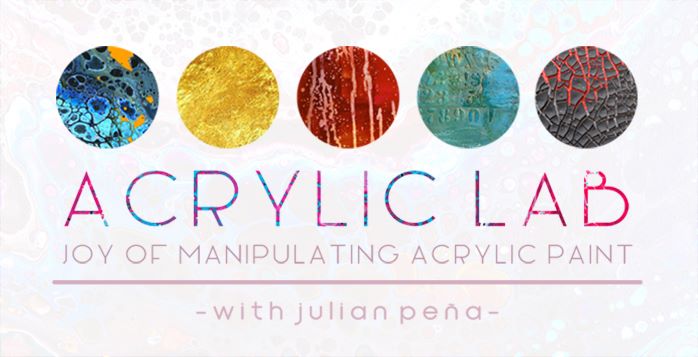 Acrylic Lab: Joy of Manipulating Acrylic Paint
Doors open at 7pm on 1.16.19, program starts at 7:30pm
21+
(Bring additives to customize your acrylic paint!)
Join visual artist Julian Peña in playing and manipulating with acrylic paint using mediums and additives. Everyone of all skill levels and experiences are welcomed to join. He will explore different techniques and manipulations using acrylic mediums and additives with demonstrations. Change the viscosity of the paint, transfer images onto substrates, create textures, and alter the sheen/surface of paint. We will play with gold leaf, mica pigments, and other additives to alter the surface. The workshop will also be supplemented with visual aides.
Each acrylic alchemist will have canvas strips to use throughout the whole course and acrylic materials will be provided, which will result in individual works of art! Why not show off the work that came out of the workshop? You can even share with the art community and post your works with the hashtag #AcrylicLab. We encourage you to bring a ziplock bag of non-toxic additives to explore with (such as sand, glass granules, glitter, etc.)*.
Julian Peña is a visual artist and studied at the University of Washington School of Art in Seattle, WA. He has earned six scholarships, was voted best artist in South Sound Magazine's Best of South Sound contest for two consecutive years (2012/2013), participated in numerous group and solo exhibitions, produced various art-related events, and commissions. Julian Pena currently lives and works in Seattle, Washington.
*For concerns of safety, the facilitators must advise on the use of any additives brought in by attendees.