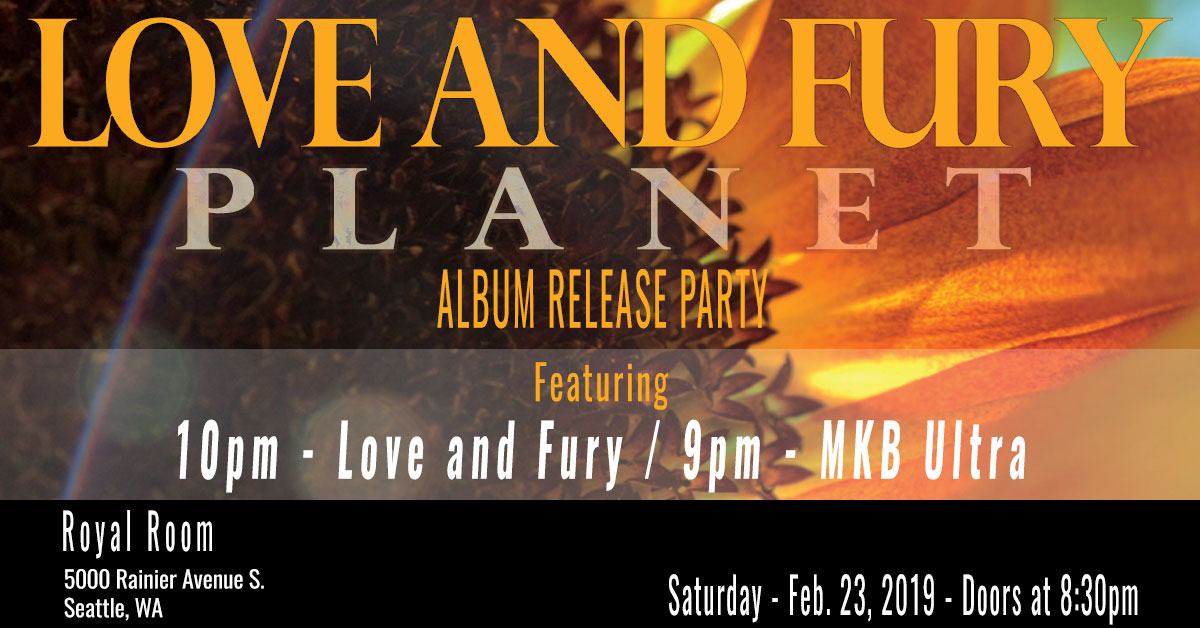 Love and Fury (Album Release) // MKB Ultra
Doors at 8:30pm
Tickets: $12 adv/ $15 dos
To guarantee a good seat, please make your dinner reservation by emailing reservations@theroyalroomseattle.com
Advance tickets can only be purchased online. We do not sell advance tickets at the venue.
LOVE AND FURY:
"Our first record takes the listener on a journey through lush guitar weavings, heavy drums, big bass, strong vocals, passionate lyrics, spiced with samples. It rocks. It's catchy. It's fun."

OVER THE COURSE OF SEVERAL YEARS
Gary King wrote and recorded dozens of instrumental songs. He arranged and played all of the instruments himself except for a few drum tracks that were laid down by friends in informal settings, or MIDI tracks. Gary reached out to Gretta Harley in the late winter of 2017 about writing lyrics, and when Gretta heard Gary's music she was blown away. Inspired by the new political climate of America, the words flew out and vocal melodies came naturally. Gary and Gretta quicky found themselves as kindred spirits and they embarked on recording her vocals. Soon it was evident that a drummer was needed to give a cohesive drum sound to the the recordings. Kai Strandskov came in and crushed it.
INITIALLY INTENDED AS A HUMBLE RECORDING PROJECT
Gary and Gretta got increasingly enthused about making it better. They even joked about how much fun it would be if these songs were performed live. But the joke turned into a craving and their humble recording project took on a life of its own. They continued to fine tune the recordings and Gary busily worked away in the studio.
THE MUSIC WANTED A BAND
Kai was in. Badass multi-instrumentalists and singer, Jane Mabry Smith entered the picture after hearing Gretta perform some of these songs acoustically at a house concert. Gary and Gretta asked Jane to lay down a few tracks, replacing some of the ghost bass lines. We were thrilled to have Amy Denio come in and lay down some saxophone. Since the recording, Love and Fury, the live band was born. In addition to Kai and Jane, Bob Watanabe plays guitar with Gary, and Rob Knob plays keyboard.

Love and Fury is a tour de force of rock, with subtle and overt messages of hope and love. We hope you like it.

Website
Facebook
Youtube
Twitter

MKB ULTRA:
After our debut album, we wanted to explore what heavy rock and danceable rhythms could conjure. With the second album Patrick Lenon takes over drums and Laura Weller Vanderpool plays guitar and sings back up. The music weaves punctuating rhythms with driving grooves. Vocal harmonies drift over powerful rhythms, vocals beat a path through the dense textures.

MKB ULTRA means hypnotic grooves and poetic offerings that invite the listener to come along for the ride. We want to sweep you into the groove and drop you off at the top of the mountain where you can see the sun on the horizon...is it rising or setting? That is for you to decide...
Mia Katherine Boyle: Songs, Vocals, Rhythm guitars
Patrick Lenon: Drums
5-Track: Bass
Jack Endino: Lead guitar
Laura Weller-Vanderpool: Vocals, Guitar

Facebook Event
Please note: Tickets do not guarantee seating during shows at the Royal Room. For sold out shows standing room may be the only available space. Please come early to ensure you get a table. Reservations can be made for those who are coming for dinner as well as the show. The Royal Room is All Ages until 10pm.