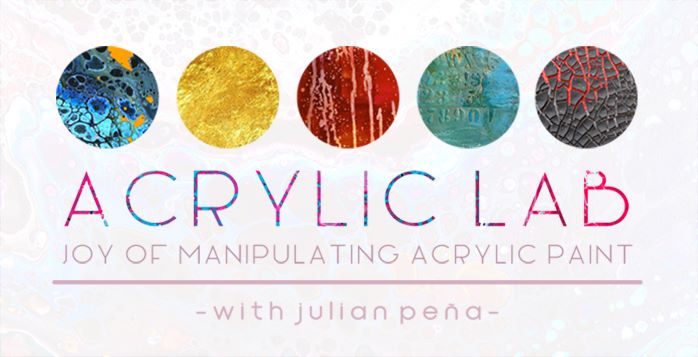 Ada's and Artist Julian Peña Proudly Present
Drink and Play with Paint!
July 07, 2019 - Doors at 3:30pm, Workshop begins at 4:00pm
(Bring additives to customize your acrylic paint!)
21+
Join visual artist Julian Peña in playing and manipulating with acrylic paint using mediums and additives. Everyone of all skill levels and experiences are welcomed to join. The Acrylic Lab series offers a variety of different techniques that is ever-changing. Each workshop will include a random selection of skills such as transferring images onto acrylic surfaces, acrylic pouring, changing the consistencies of paint, water-based gold leafing, acrylic skins, collage, custom paints and MORE! Every single class will be new, spontaneous, interactive, and DIFFERENT! The instructor will supplement this workshop with demonstrations. The workshop will also be supplemented with visual aides as well. Like all of my workshops, this will be hands-on. This series would be PERFECT for a friend's night out, dates, artist development, and general learning! The Lab at Ada's wonderful bartenders will be providing their services throughout the workshop. The instructor will also recommend relevant books in art to inspire the artist within.
Each acrylic alchemist will have canvas strips to use throughout the whole course and materials will be provided, which will result in individual works of art! Why not show off the work that came out of the workshop? You can even share with the art community and post your works with the hashtag #AcrylicLab and #thelabatadas (this will put you in the running for a contest to win a free ticket to one of my future classes).
FYI please bring an apron and/or wear something that you won't mind having paint on. Accidents do happen!
Julian Peña is a visual artist and studied at the University of Washington School of Art in Seattle, WA. He has earned six scholarships, was voted best artist in South Sound Magazine's Best of South Sound contest for two consecutive years (2012/2013), participated in numerous group and solo exhibitions, produced various art-related events, and commissions. Julian Pena currently lives and works in Seattle, Washington.
www.jpenastudio.com
Instagram & Facebook: @jpenastudio
Tickets Available
21+The Lab at Ada's