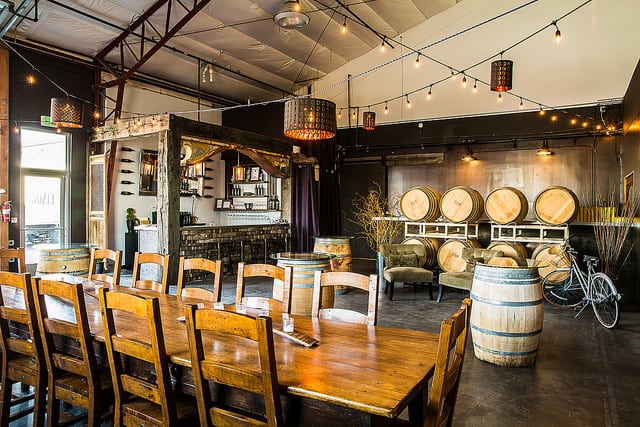 Women in Wine
Thu, Oct 10, 2019 at 5:30pm
21+
Ticket includes one glass of Elsom Cellars wine
Meet us at Elsom Cellars in SODO for Seattle Made's Women in Wine event on Thursday, October 10th for a lively discussion featuring local women in the industry! We'll be joined by panelists from Seattle Made wineries. Discussion topics will include origin stories, sustainability practices, how Seattle wine is unique, and the future of the industry in our city. Attendees will have the opportunity to participate in a Q&A session and tickets include a glass of wine from Elsom Cellars, Structure Cellars, or Welcome Road Winery.This program is presented in partnership with Elsom Cellars.
Panel discussion from 6:00 – 7:30 with seating available on a first come first serve basis.
Get your tickets here!
Our featured panelists include
Yvonne Davis (Moderator)- Waters Winery
Yvonne came to Seattle, 8 years ago from Los Angeles, California with a dream to break into the wine industry. She packed up her car, did a road trip through Napa, and immediately upon arriving in Seattle enrolled in the Sales & Marketing program at the Northwest Wine Academy. The rest is history.
Yvonne started out in tasting rooms at Columbia Winery and Delille Cellars then moved over to the distribution side of the wine industry as a Corporate Accounts Executive with Cru Selections and Acme Wine Co.
In 2015, Yvonne joined winemaker Ryan Crane of Kerloo Cellars SoDo where she wore many hats as the Operations and Marketing Director which included marketing, managing the tasting room, running events, wine club, and overseeing shipping and compliance.
In September of 2018 Yvonne joined the TR wine team, which includes her husband Jamie Brown winemaker for Waters Winery and 21 Grams. It has always been a dream for Yvonne and Jamie to team up and work together. Yvonne will be heading up the Waters SODO tasting room location where she looks forward to connecting with all of their loyal wine lovers. Yvonne brings a wealth of wine experience and is excited to be part of the next chapter of TR Wines future.
Jody Elsom | Owner/Winemaker - Elsom Cellars
Jody's a traveling spirit. If you ask her what inspires her, you get a million glimpses of the world she's seen. This old world teaches us a lot, if we slow down and let it. And, if we sit across a table from a stranger with a couple glasses of great wine, before long, it's surprising how much we all share. Wine gathers its taste from everything it encounters. The earth. The air. Everything leaves a mark. So do people. Jody's passion for wine began in the Napa Valley and further explored through numerous experiences in the vineyards and wineries throughout Italy and France. Formally educated as one of the first graduates from WSU's extension studies of Enology. Jody has a passion for developing wines that best represent the possibilities for Washington Wines.
Angie Stutphen- Events Manager at Elsom Cellars
Angie is a born and raised Seattleite. Event planning and celebrations are in her blood. She grew up working with her mother's catering company before moving into other fields like dance instruction and retail/sales management. Her work history, both at home and in the office, made for a "perfect pairing" when she decided to enter the wine industry. After some time with Dusted Valley and five years with Patterson Cellars, Angie found her way to the Elsom team in 2016. The most impactful experience in Angie's life was taking time to have and raise her two daughters, Maddie and Charlotte. This is when she learned about the power of community - How opening the door, asking for and accepting the support of neighbors, friends, and family can bring strength and resilience. A big part of this time in her life was learning how much joy good food and good wine shared from a full heart can bring. That same intention and connection is how Angie views event planning with her customers. In her spare time you can expect to see Angie volunteering with Soulumination, Angel Band Project, and Seattle Children's Hospital. She is also a huge fan of cooking up tasty treats at her beach house on the Long Beach Peninsula with her husband Paul and their two dogs.
Leigh McMillan - Welcome Road Winery
Leigh is the co-owner and winemaker at Welcome Road Winery, a boutique West Seattle winery founded in 2011 that specializes in Bordeaux-style red blends and fun parties on the tasting room patio. When not making or drinking wine, Leigh is the CEO of Whitepages, an identity data company in Seattle, and serves on the board of the Woodland Park Zoo, an institution on the cutting edge of inspiring global conservation and STEM education.
Brandee Slosar - Structure Cellars
In 2011, Structure Cellars became a licensed winery and my partner, Brian, and I made wine out of our house. The driveway also became known as the "crush pad" and twice a year, when we drug our couch out of the house and placed it in the driveway, the "tasting room". We were able to produce 200, 400 then 750 cases out of a tiny basement in a tiny house in Ballard.
In 2014 we finally moved into a production space and tasting room in SODO. We grew from 750 to 1425 to 2300 (and now 3000) case production and built an amazing wine club of 1600. We did the thing that everyone said not to do, and opened a second tasting room in the same building in 2017. We've sold out of every bottle every year and both tasting rooms are screaming busy every week. My part in the winery: "The Guy Behind The Guy." First, let me be clear - neither one of us had ever worked in a tasting room before and at the time I thought it was a handicap. Turns out, it was the magic. We just did things the way we would want them if we were a customer, and it worked (sort of like the winery version of the golden rule). We are the luckiest person I know. I get to work with my best friend, and after 10 years, I am finally a minimum wage earner! Everyday we feel grateful that we get to make delicious wine, in the most amazing spot on earth. What I know for sure is that #MyLifeNeedsStructure every day.
Thank you to our sponsors!
It's been said that wine reflects its environment. Elsom Cellars' wines are filled with the clatter of artisans working hard at their winemaking craft, sharing stories, kids laughing. It's hard to explain, but somehow it all ends up in the bottle.
Visit us online at elsomcellars.com