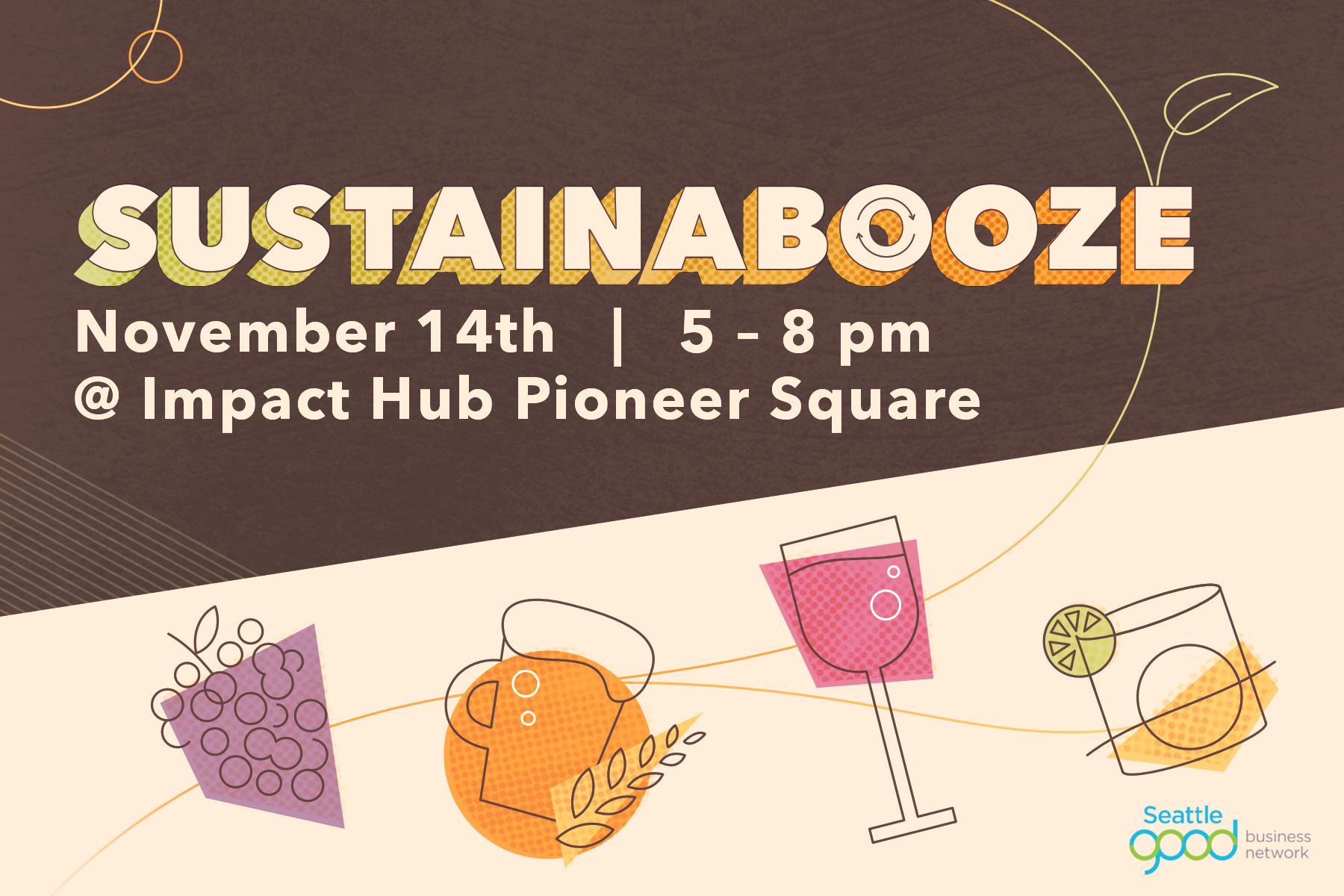 Sustainabooze
Thu, Nov 14, 2019 from 5pm - 8pm (Pacific)
Join WA vintners, distillers, cidermakers, and brewers in saving our communities and planet by taking the next steps to reduce your environmental impact at Sustainabooze! This event is for industry folks as well as anyone passionate to learn more about current and prospective solutions to producing beverages more sustainably!
Over sustainably produced food and drink, you'll hear about innovative solutions, resources, and best practices from peers, industry leaders, and subject-matter experts. The event will feature a panel discussion, deep-dive break-out sessions, and networking!
Break-out sessions will be co-moderated by a panelist or another industry leader, alongside a subject matter expert who will provide tools and resources on the deep-dive topics!
Topical break-out sessions to include, but may be subject to slight changes:
Community-based solutions - Moderated by Eric Jorgensen from Finnriver Farm & Cidery and Miguel Nigenda from EnviroStars
Holistic Sustainability - Moderated by Gage Mitchell from Modern Species and Ryan Strandin from Bucha Belly
Marketing/branding with a sustainability lens Moderated by Brandon Archuleta from Lane Powell and Kassie McKnight from Elsom Cellars
Paths to Sustainability: A Self-guided Tour - Moderated by Chris Engdahl from Lantern Brewing
Bottling and Packaging - Moderated by Leigh McMillan from Welcome Road Winery and Emily Terrill from EnviroStars
Date: Thursday, November 14th
Time: 5:00 – 8:00 pm
Location: Impact Hub, 220 2nd Ave S, Seattle, WA 98104 (map)
Cost: $35
Get your tickets here!
Event Program
5:00-5:30 Networking, food, and drinks
5:30-6:30 Presentations and panel discussion of industry innovators
6:30-7:30 Challenge breakout sessions for individual problem solving
7:30-8:00 Networking and closeout
Moderator
Brandon Archuleta - Lane Powell
Brandon Archuleta is a corporate and commercial attorney, with a particular focus on data privacy. Brandon spent the first two years of his career as an attorney working for Molson Coors Brewing Company in Denver.
Brandon works across a wide client base in the food, beverage, and technology industries, and drawing on his experience as an in-house attorney, he aims to provide practical and effective solutions to the regulatory, business-structure, and deal-related challenges faced by modern businesses. He has also co-authored an article in Artisan Spirit on Privacy and Data Security Best Practices for Distillers.
Panelists
Leigh McMillan - Welcome Road Winery
Leigh is the co-owner and winemaker at Welcome Road Winery, a boutique West Seattle winery founded in 2011 that specializes in Bordeaux-style red blends and fun parties on the tasting room patio. When not making or drinking wine, Leigh is the CEO of Whitepages, an identity data company in Seattle, and serves on the board of the Woodland Park Zoo, an institution on the cutting edge of inspiring global conservation and STEM education.
Tyler Pederson - Westland Distillery
Tyler is the production manager at Westland Distillery, producing American Single Malt Whiskey. In his current role, he is responsible for evaluating and procuring all raw materials, developing the production schedule, and process optimization. He is passionate about working with industry partners such as researchers, farmers, and maltsters to identify and develop flavorful barley varietals that perform well for all stakeholders in the supply chain. He currently serves as the Chair of the Education Committee for the Washington Distillers Guild, hosting educational events that focus on improving all aspects of operations for Washington distillers. He is also currently in the post-graduate program at Heriot-Watt University, and is working towards a Master's of Science in Brewing and Distilling.
Eric Jorgensen - Finnriver Farm and Cidery
Eric Jorgensen has a degree from Stanford University and a background in education and in nonprofit finances. A Finnriver co-founder, he now serves as Finnriver's CFO and mathmagician. He is the past President for the NW Cider Association and as a Board Member for that association remains an active member of the PNW cider community. Eric has managed the dynamic growth of Finnriver from our first year producing 500 gallons of cider to our current volume of over 80,000 gallons per year. He plays the banjo and is known to appear with the Unexpected Brass Band and his trombone at celebrations throughout the community.
Chris Engdahl - Lantern Brewing
Chris is a Northwest native and has made Seattle his home for the past 25 years. He grew up in the foothills and mountains of Oregon, and his earliest work experiences included picking Pinot Noir grapes in the Willamette Valley. While still young, he lived and worked in Switzerland, then France, and there became enchanted with the brewing traditions of Europe. Returning to Seattle, he took a detour from his true passions for nearly two decades to design global scale data networks, network services, and network security systems, managing technical teams and programs to implement technological infrastructure that ultimately added no joy to the world. To fill that void, he left tech in 2010 and began Lantern Brewing with the goal of blending the French and Belgian brewing traditions with the ingredients and character of the Northwest. He is currently responsible for Lantern Brewing's operations, production, sales, distribution, regulatory compliance, strategic direction, and is captain of Lantern's nascent curling team.

Maura Hardman heads the small but scrappy marketing team for Two Beers Brewing, Seattle Cider Company, and Sound Craft Seltzer. She is currently pairing her love of craft beer and cider with her love of story telling and branding.
Special Thanks to Sustainabooze Sponsors & Partners!