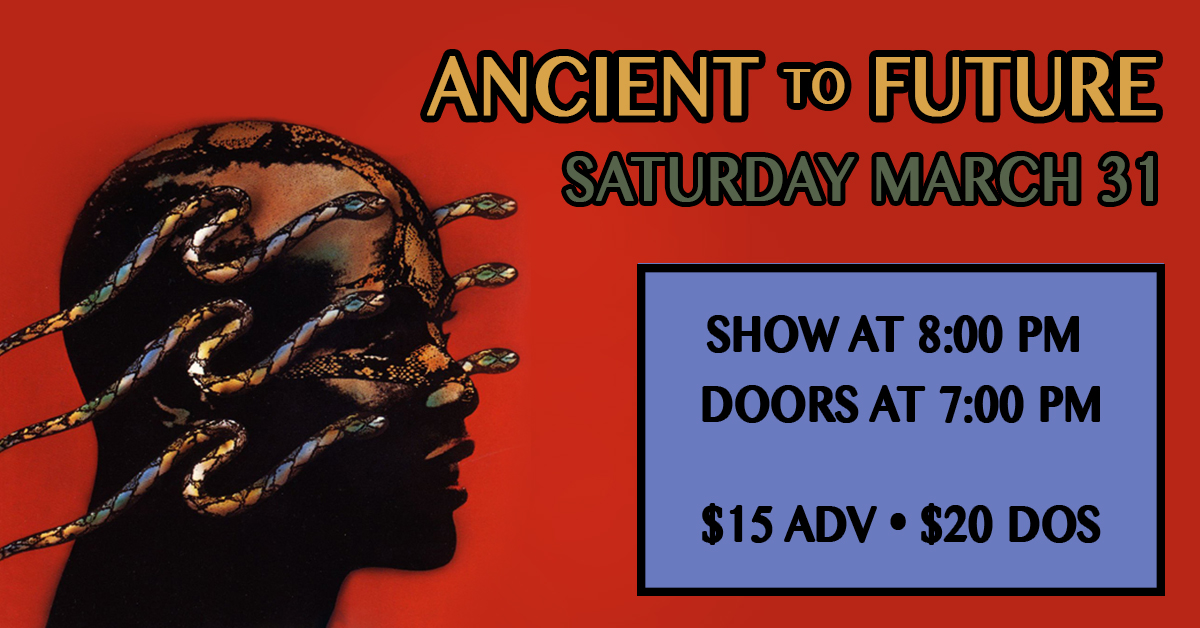 Ancient to Future (NIGHT 3)
Doors at 7:00pm
Tickets: $15 adv/ $20 dos

This is part of a three day festival. Day two (Friday, March 30th) will be hosted at The Chapel Performance Space of Wallingford's Good Shepherd Center

8:00pm - Greg Campbell presents the Music of Henry Threadgill

Henry Threadgill's music is profound, deeply grooving, complex and just plain fun. Threadgill has been at the epicenter of the NY scene of the 80s and onward after spending his formative years in Chicago, and a member of the AACM. Threadgill's music brings almost any American tradition one can think of together. He is the winner of the 2016 Pulitzer prize in composition. Greg Campbell and Alex Cline are both featured in this two drummer line up based on Campbell's transcriptions of Threadgills large ensemble compositions.

9:15pm - Cline, Horvitz, Kuhn, and Sewelson

Dave Sewelson, Peter Kuhn and Wayne Horvitz all met in Santa Cruz in the mid 70's. Moving to NYC with many others at the same time, they all pursued creative music intersecting with a myriad of musicians including Frank Lowe, Lester Bowie, Philip Wilson, Butch Morris, John Zorn, William Parker, Bill Frisell and many, many more. Meanwhile Alex Cline was making waves on the LA scene and collaborating with many of the same musicians. This quartet brings together 4 long time collaborators, who cut their teeth on the improvised music of the 80's, in an extremely rare appearance.

10:30pm - Kate Olson plays Steve Lacy (Solo).

Soprano saxophonist Steve Lacy (1934-2004) has been perhaps the best known soprano saxophonist in the modern era of jazz, along with John Coltrane. Lacy fused the influences of early jazz (Sidney Bechet) with the pioneers of be-bop (Thelonious Monk) and the modernists (Cecil Taylor). Lacy was often known for his solo work, and duo with trombonist Roswell Rudd, who passed in 2017. Kate Olson, Seattle's own premiere soprano saxophone, will present a solo set in homage to Lacy.

11:15pm - Crystal Beth & the Boom Boom Band featuring Kathy Moore on guitar

Beth Fleenor's avant jazz, rock and noise band is the quintessential final act for Ancient to Future, with an emphasis on future. Loud, primal, and virtuosic the band re-defines so many facets of improvised music and song structures, with intense instrumentalism and transcendent vocals. Music for the 21st century. Lighting by Dave Verkade
"Ancient to Future"(*) was conceived in 2017 as a 3-day festival to celebrate the revolution in jazz and improvised music associated with the mid 60s - and that continues to this day.

This music found its earliest expression in the music of John Coltrane, Ornette Coleman, and Cecil Taylor, and continued with the innovations of the Association for the Advancement of Creative Musicians (ACCM), the Black Artists Group (BAG) and onward.

This years festival features the music of Sonny Sharrock, The Art Ensemble of Chicago, the solo work of Steve Lacy, a tribute to John Carter and Bobby Bradford, and the large ensemble music of Henry Threadgill, plus a tribute to Muhal Richard Abrams, the founding father of the AACM, who passed away earlier this year.

This year's featured artistwill be Alex Cline, a master percussionist who has performed in a career spanning forty years which a myriad of great artists in creative music, including Julius Hamphill, Myra Melford, Joseph Jarmen, his twin brother Nels Cline, Charlie Haden, Charles Lloyd, Tim Berne and John Carter and Bobby Bradford just to name a few.

In addition, this years festival will focus on local artists whose work pay homage to the tradition and its many evolutions. Ivan Artega's Tiny Ghost, Crystal Beth's Beth Boom Boom band, and a Cornish College of the Arts base band lead by drummer Ruby Dunphy-currently the drummer in Seattle's own "Thunderpussy"- in a tribute to the music of Eric Dolphy

In 2018, the festival will be presented at the Royal Room and at The Chapel at The Good Shepherd Center in a partnership between The Royal Room, Nonsequitur and the Cornish College of the Arts.

Performances will be on Thursday March 29 and Saturday March 31st at the Royal Room and on Friday March 30th at the Good Shepherd Center. March 29 and 31 7.30 p.m. March 30th at 8 p.m.

(*) Ancient to Future comes from the phrase the Art Ensemble of Chicago used to describe their music. "Great Black Music: Ancient to Future."

Facebook Event

Please note: Tickets do not guarantee seating during shows at the Royal Room. For sold out shows standing room may be the only available space. Please come early to ensure you get a table. Reservations can be made for those who are coming for dinner as well as the show. The Royal Room is All Ages until 10pm.