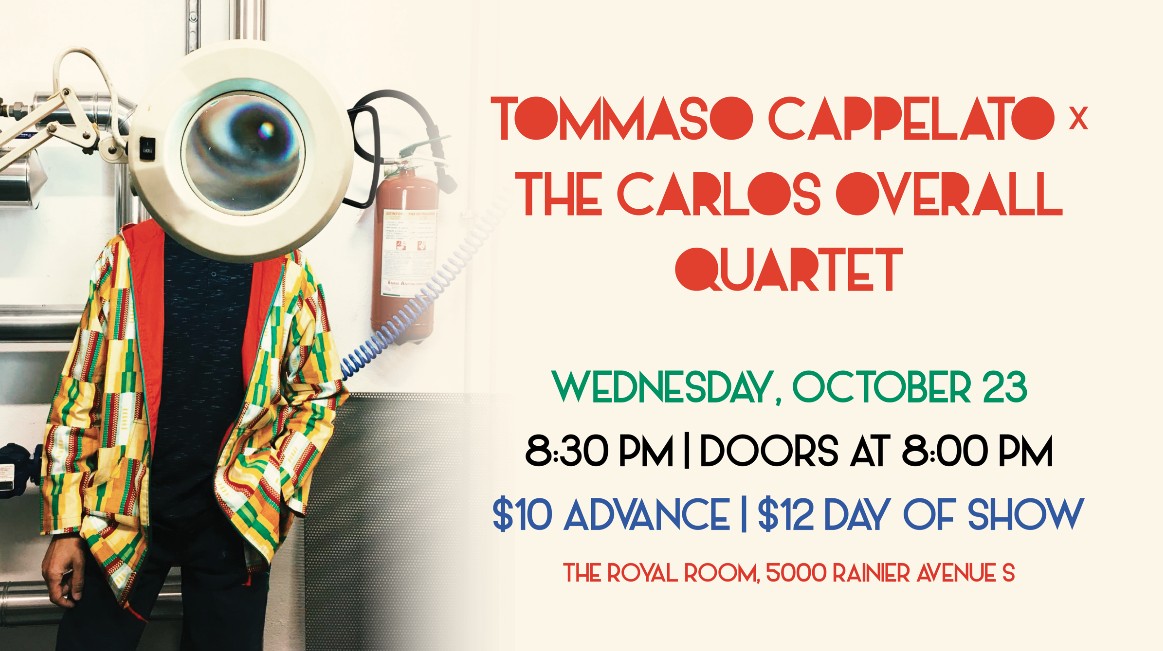 TOMMASO CAPPELLATO X THE CARLOS OVERALL QUARTET
Wed, Oct 23, 2019 at 8:30pm
Doors 8:00pm
$10 adv/$15 dos

To guarantee a good seat, please make your dinner reservation by emailing reservations@theroyalroomseattle.com
Advance tickets can only be purchased online. We do not sell advance tickets at the venue. Refunds are not available within 48 hours of the event.
Italian musician, producer, DJ, and composer Tommaso Cappellato is a musical maverick—running the gamut from free‐form techno to hip‐hop production and jazz improvisation. Mentored by jazz visionaries Harry Whitaker (Black Renaissance), Michael Carvin (Pharoah Sanders), and collaborator with techno master Donato Dozzy, Tommaso's seemingly unorthodox breadth of style and vision gives us a truly unique new school artist.
TOMMASO feat Victor Lewis
TOMMASO live at jazz re:freshed
From building his jazz chops as a resident drummer in NYC working with Bill Ware's Vibes and The Jazz Passengers feat. Debbie Harry, to hip hop excursions alongside Brooklyn MC Yah Supreme; traveling to Senegal to meld with local world music masters, to leading his own award‐winning spiritual jazz project Astral Travel; collaborating with experimental electronica and techno artist Rabih Beaini, and visionary Egyptian producer Maurice Louca to presenting his solo artist project "Aforemention" and his latest 2019 release "Butterflying". Tommaso brings together his lifetime of artistic exploration and exposure to create his own concept of a jazz‐informed experimental electronic soundscape.
Thanks to his projects and vision he has been endorsed by Gilles Peterson both on his Worldwide FM radio programs and festivals. In 2014 Tommaso was granted the JAJ Award by Shuya Okino (Kyoto Jazz Massive) acknowledging him as the year's best new artist. His 2018 album "Aforemention" was released on Mark de Clive-Lowe's label Mashibeats Records along with Ropeadope and Mental Groove Records and his band new "Butterflying' album is just out on Mother Tongue with 2 NEW Bonus Tracks coming Sept 2019.
Tommaso was recently artist in residence at NYC's Pioneer Works and recorded with Jamie Branch (International Anthem) besides appearing on Maurice Louca's album Elephantine (Northern Spy); Currently recording/co-producing Mark de Clive-Lowe's new album and is collaborating with artists the likes of Nicola Conte, DJ Khalab (Italy), Rabih Beaini (Lebanon/Germany) and Mark de Clive-Lowe (US) as mentioned above. He appears frequently on Gilles Peterson's Worldwide FM.
Please note: Tickets do not guarantee seating during shows at the Royal Room. For sold out shows standing room may be the only available space. Please come early to ensure you get a table. Reservations can be made for those who are coming for dinner as well as the show. The Royal Room is All Ages until 10pm.